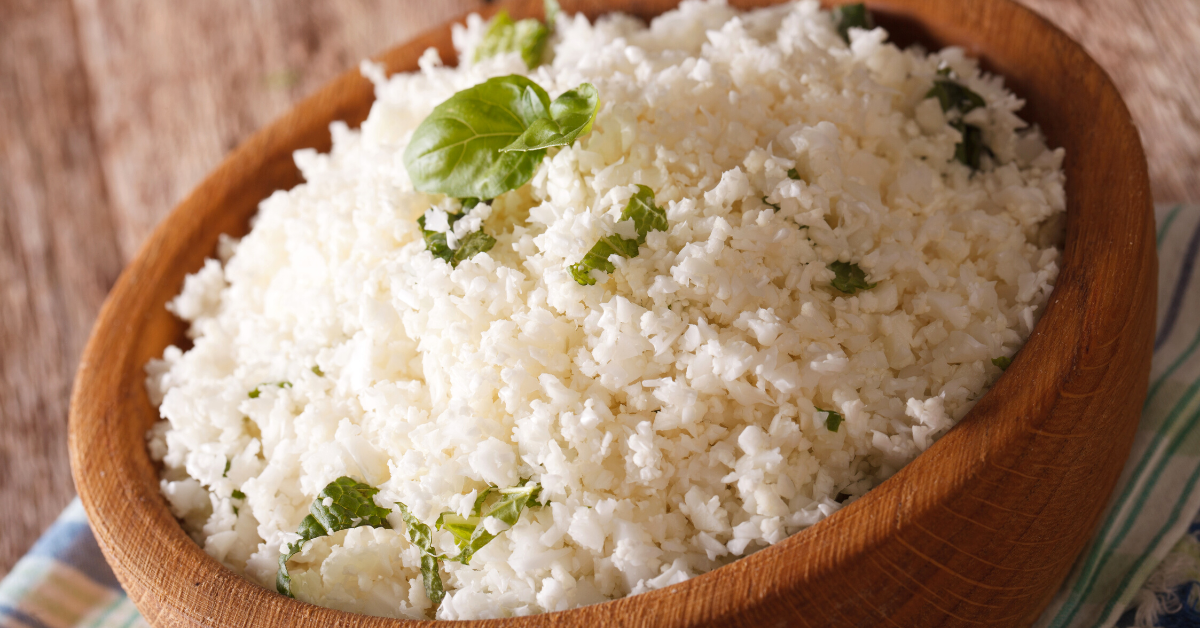 ---
Rice. It's a simple, versatile, yet carb-heavy food. Here's an alternative for the blood-sugar conscious. Make cauliflower rice in 4 steps. 
---
White rice is great. It's the base of so many wonderful dishes that are flavorful, nutritious and satisfying. But using rice as your base will load you up with over 50 grams of carbohydrate and an insignificant amount of fiber, based on a 1 cup serving. For many people, that's totally fine. But for those of us who are trying to manage blood sugar, whether with diet or medications, there is a better option. A 1 cup serving of cauliflower rice gives you about 5 grams of carbs with 2 grams of those carbs being fiber, reducing the net carbs to about 3 grams. That's a huge difference for fellow carb-counters.
Cauliflower is as diverse as rice. So much so that it can replace it in many rice-based dishes, like rice bowls and orange chicken. And it's not difficult to make. Here's a simple way to make cauliflower rice using a food processor. 
---
Ingredients: a large head of cauliflower and 1 TBSP of cooking oil. That's about it! After it's made add salt, pepper, or other seasonings as you'd like depending on what you're doing with it. One large cauliflower will yield 4 servings of 1 cup per serving.
Directions: Make riced cauliflower in 4 steps.
Wash and dry the cauliflower, and remove anything green.
Cut cauliflower into small florets. Press dry with paper towels to remove excess moisture. 
Grate the florets using the grater attachment in your food processor. The results should give you roughly rice grain-sized pieces.
Heat 1 TBSP of cooking oil in a large skillet (medium heat) and sauté for 5 minutes. If you want the cauliflower a bit softer, cover and allow it to steam for a couple of minutes. Be careful not to over-steam. It can become mushy.
Nutritional Information: For 1 cup serving
Calories: 25
Fat: 0.3g
Cholesterol: 0mg
Sodium: 30mg
Potassium: 299mg
Total Carbohydrates: 5g

Dietary Fiber: 2g
Total Sugars: 2g

Protein: 2g
Vitamin C: 80% recommended daily value (DV)
Calcium: 2% DV
Iron: 2% DV
Quick tip: You can actually freeze uncooked cauliflower to use later. After step 2, cook only what you need and place the rest in a freezer bag or freezer-safe glass dish. It keeps up to a month. Or, you can keep the unused raw cauliflower sealed in your refrigerator up to a couple of days to use as needed for meals. Enjoy!