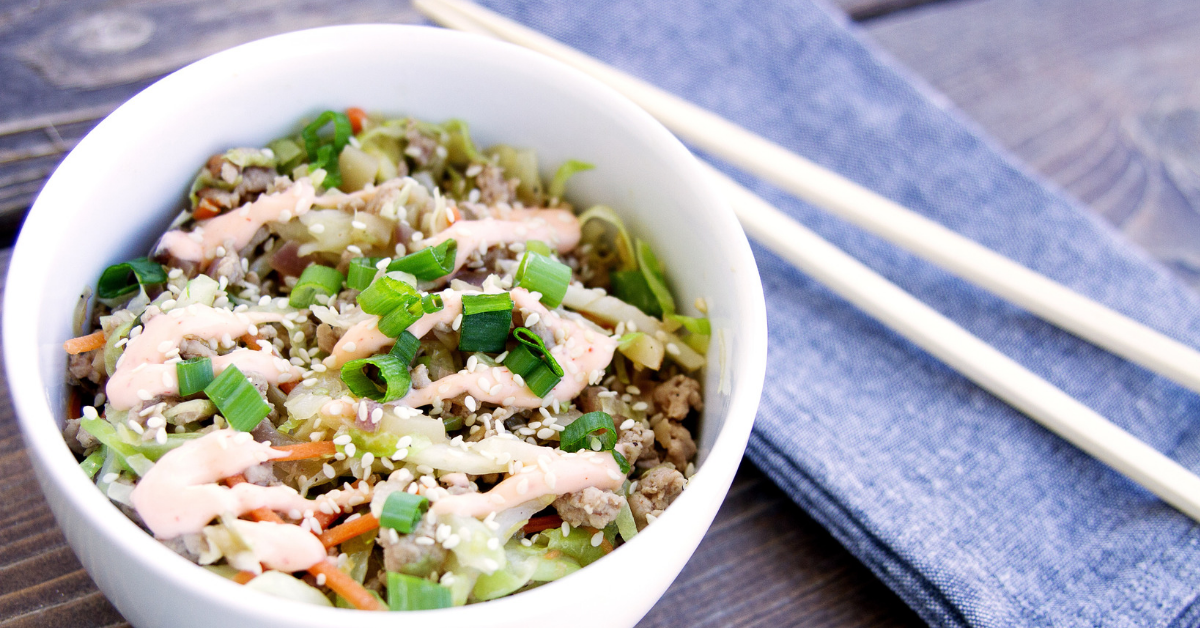 ---
New from Nikki Sheriff, try making this nutritious Egg Roll Rice Bowl recipe! 
---
This flavorful meal is low on prep and comes together very quickly. Serve over rice for a filling meal, whether it's brown rice, white rice or cauliflower rice, or eat it on its own for a lighter meal. Top with some sriracha mayo to add a little extra spice, or drizzle with a little bit of lite soy sauce to enhance its flavor. 
Ingredients
2 TBSP sesame oil

5 green onions, sliced and whites and greens divided 

4 cloves of garlic, minced

1 tsp stir in ginger paste (or minced fresh ginger)

1 lb. ground pork

1 small can sliced water chestnuts, diced

1 TBSP sriracha 

1 bag coleslaw mix 

3 TBSP lite soy sauce 

1 TBSP rice vinegar

Salt and pepper to taste

Sesame seeds, optional
Directions
Heat sesame oil over medium-high heat. 
Add the whites of the green onions and garlic, and cook until the garlic slightly browns. 
Add the pork and cook until browned. 
Add the ginger, water chestnuts, and sriracha. Cook for 1-2 minutes. 
Add the coleslaw, soy sauce, vinegar and salt and pepper to taste. Cook until the coleslaw softens. 

Divide into 8 servings. Serve over cooked brown rice, white rice, cauli-rice or eat by itself. Garnish with green parts of the green onions and sesame seeds if desired. 
For a little extra spice, mix ¼ cup of light mayo and 2 TBSP sriracha. Drizzle over the top (not included in nutritional facts).