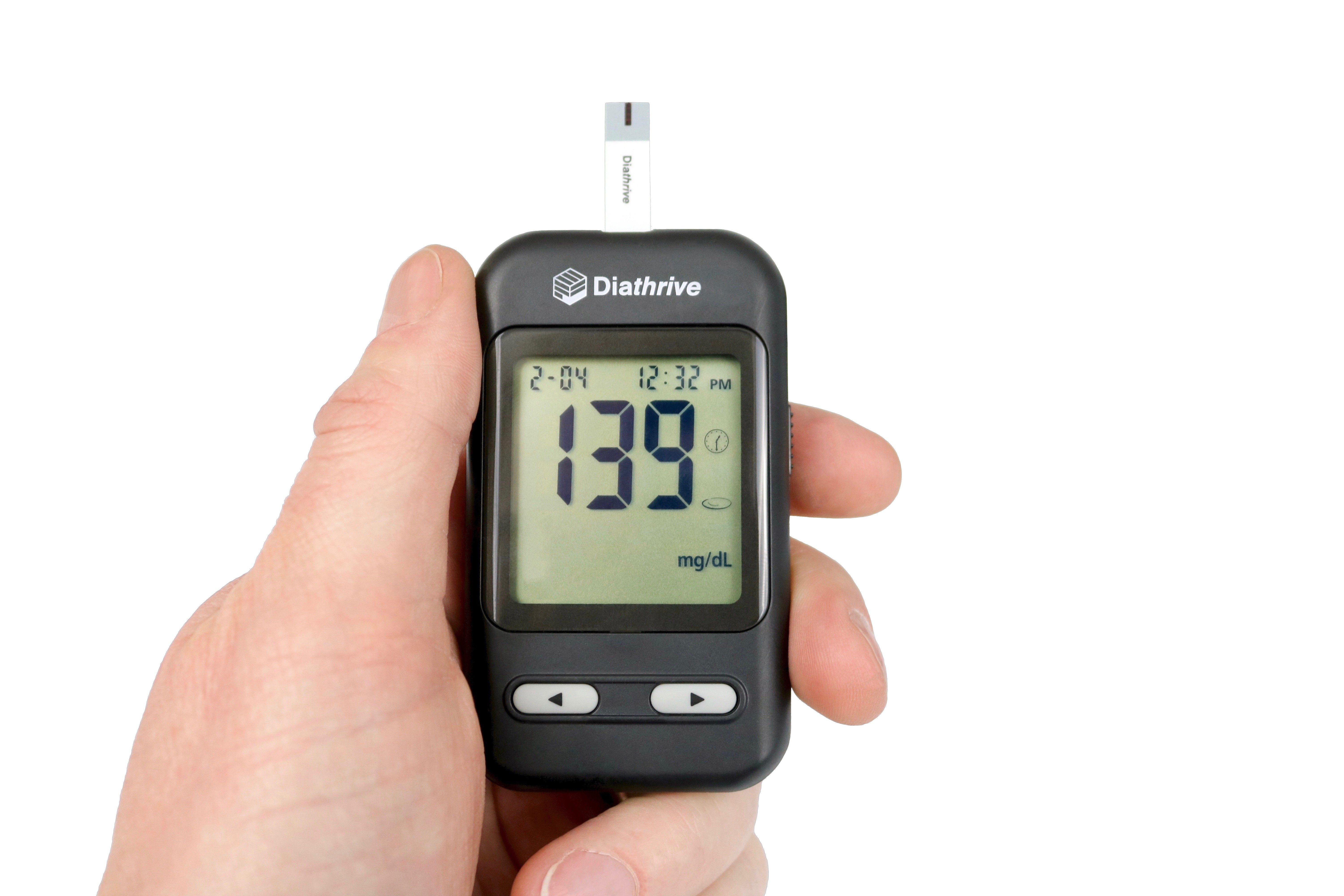 ---
FAQ: Does Diathrive accept insurance, Medicare or Medicaid? 
---
Diathrive is frequently asked if we take traditional health insurance plans, Medicare or Medicaid. The answer is no, we do not. Here are some important reasons why we don't.
Insurance drives up health care costs
Do you know why big-brands' glucose meters and test strips cost so much money? It isn't because you are buying greater quality. "You get what you pay for" definitely does not apply to this industry. The glucose meter that your doctor gives you or your insurance pushes on you isn't more accurate than the others. All meters available in the USA, including ours, have gone through the same requirements as all the rest in order to receive FDA approval. We all use the same few manufacturers with similar production costs and strict quality assurance standards. 
So why do Big Pharma brands cost $18 up to $42 retail for a meter? And, why do the test strips required for these Big Pharma brands' meters cost 70¢ up to $2.00 per strip retail? 
Insurance.
Even though the cost of making test strips is quite low, big brands will pay insurance companies huge rebates to give the brand exclusive coverage under the insurance formulary. And when another brand steps up and offers the insurance company more, your insurance will stop covering the meter you're used to and make you switch to a whole new one in order to get coverage. 
In order to pay the insurance companies for exclusivity, the meter maker will drive up the retail cost of their equipment, passing the financial burden on patients who do not have adequate coverage. That extra money is just to pad the extra layers, including the insurance company, the pharmacy benefit manager (PBM) the insurance uses, and the pharmacy's cut. 
The reality is that you don't need insurance to get accurate, affordable glucose testing supplies.
Medicare and Medicaid have limits
Medicare and Medicaid limit the amount of money per year that their customers can use. Once that amount is used up, you're on your own. For people managing diabetes, glucose testing is a valuable tool, but one of many that could be using up those allowed funds. So, rather than using it up on test strips, see how much further you can stretch those funds by taking glucose testing out of the mix, especially when it can actually be affordable. 
Our prices are lower than most copays
As the cost of health insurance goes up, so are deductibles. If you have a high deductible plan, an option more and more employers are providing, you can expect to pay full price for diabetes supplies until you've spent thousands out of your own pocket, after which your insurance will cover the majority of the cost, leaving you with remaining monthly costs until the end of the year.
If you have a traditional insurance plan and happen to get a decent pharmacy benefit out of it, you'll probably be responsible for a copay of $25 or more for a month of test strips. 
This is where we come in. When you purchase a Diathrive subscription you bypass the systems that add extra costs. We don't buy our way into a formulary. We don't have costs to pass on to you. We provide high quality, accurate, FDA approved testing supplies at wholesale prices with test strips costing you 16¢ per strip. Build your own plan here and find out how much you can save.
Do you have an HSA plan?
Your Healthcare Savings Account will work here. Simply use your HSA card to pay when you pay for your quarterly subscription or any additional products we offer, such as insulin pen needles, alcohol pads or even lotion.
While some people are able to get testing supplies with no out of pocket costs because of really good insurance coverage, it is very rare. Those who do, we definitely recommend you continue using that coverage and keep your health care costs low. That's what we want for you, and the whole reason we exist! But, for the majority of people with diabetes, we hope you will try Diathrive and see what you can save. Our plans are simple. Our prices are honest. And, we have a 100% money-back guarantee.