Insulin Pen Needles
Diathrive Insulin Pen Needles are made from premium materials and designed for safe and comfortable insulin injections. No prescription required!
Quality Features
Triple-bevel cannula - optimal perforation and easy penetration. So sharp you won't feel a thing!
Silicone lubricant coating - coated for a smooth, painless experience. Comfort unmatched by any other.
Thin wall technology - better insulin flow and less injection pain. Less pressure required for injection and reduced risk of insulin leakage.
Choose Your Needle Size
Insulin should be injected subcutaneously (into the tissue just below the dermis, but not deep enough for muscle). Choose from 4 sizes to meet your body's needs:
32g, 4mm - our thinnest, shortest insulin pen needle
31g, 5mm - thin and comfortable, with a little extra depth
31g, 6mm - thin and comfortable, more depth for thicker skin or angled injection
31g, 8mm - thin and comfortable, our longest insulin pen needle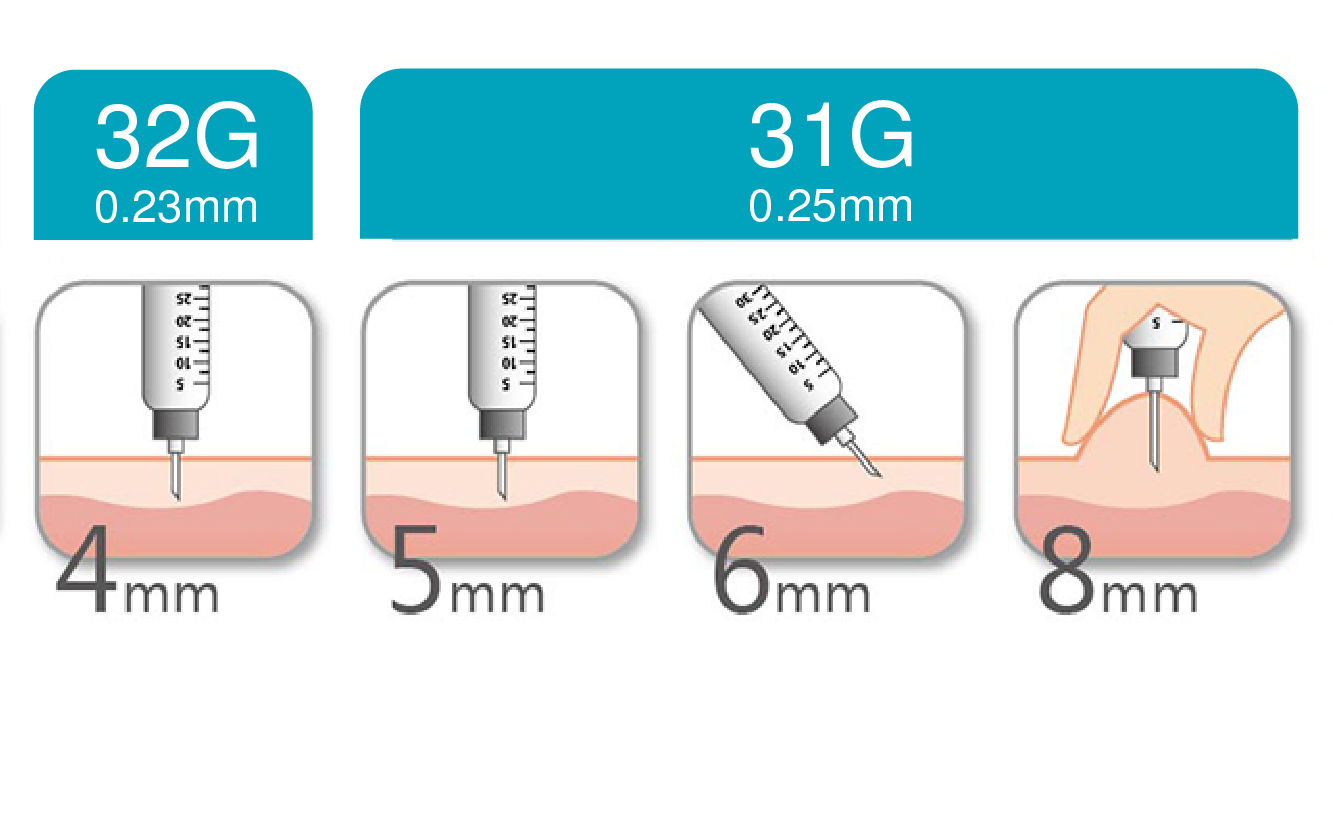 Compatible Insulin Pens
Our smooth-screw design protects your insulin pen's threads to ensure a proper connection. Our pen needles are a perfect fit for most insulin pens. Find yours below to verify fit.
Sanofi: ClikSTAR, SoloSTAR, JuniorSTAR
Lilly: KwikPen, HumaPen Memoir, HumaPen Luxura HD, HumaPen Luxura, HumaPen Savvio, HumaPen Ergo II, Humalog Pen
Novo Nordisk: FlexTouch, NovoPen 3&4&5, Innolet, FlexPen, Victoza, NovoPen Echo
Owen Mumford: Autopen Classic, Autopen Junior
Berlin Chemie: BerliPen Areo, BerliPen Junior
Companion Medical: InPen
Don't see yours listed? Contact us about which insulin pens you use and we will verify fit.
What Are Insulin Pen Needles?
Insulin pen needles attach to an insulin pen, which is a device used to deliver insulin to the subcutaneous tissue (the tissue between your skin and muscle) in your body. Insulin pens are easy to use and are often more convenient than traditional insulin syringes because the pen contains a pre-filled amount of insulin with a dial to choose the correct dose.
You can use a disposable insulin pen (one you throw away when the pen is empty), or refillable with a replaceable insulin cartridge.
Whether you use a disposable or reusable pen, the needle should be replaced with each use.
How to Change an Insulin Pen Needle
Changing your insulin pen needle can be done in just a few easy steps:
Step 1. Wash your hands with soap and water to decrease risk of infection.
Step 2. When you are ready to use your insulin pen, remove the pen cap and use an alcohol prep pad or cotton ball soaked in alcohol to clean the rubber end of your insulin pen.
Step 3. Take out a new pen needle and remove the paper safety tab from the bottom. Press the outer cap straight on to the insulin pen and turn clockwise until tightened. The outer cap should be snug on the pen but not too tight. Remove the outer cap, and your insulin pen needle is now ready for use.
Insulin pen needles should not be left on the pen when not in use, so always remove the needle after use.
To remove the needle, first replace the outer cap securely on the needle. Then remove the needle by turning the outer cap counterclockwise until it is easily removed from the pen. Discard the outer cap containing the inner needle properly in a sharps container specifically designed for this purpose.
After removing the needle, use an alcohol prep pad or cotton ball soaked in alcohol to clean the rubber end of your insulin pen. Replace the pen cap and store your insulin pen for your next use.
Replacing your insulin pen needle with each use is important because it reduces the chances of:
Infection. Although most bacteria are harmless, you don't want to risk contaminating your pen needle with harmful bacteria and then using it again.

Pain. Even though insulin pen needles are sharp, reusing them can distort the tip and increase the chance it will be painful when inserting the needle next time in your skin.

Lumpy Skin. The scientific term for this is lipohypertrophy. The skin in that area can feel lumpy or firmer than other skin on our body. Delivering insulin in the lumpy area could mean insulin is not absorbed consistently. This means it could be absorbed more or less quickly than in non-lumpy skin. Insulin should be absorbed consistently, so lumpy skin should be avoided. Lipohypertrophy can also happen from multiple injections in the exact same area of skin.

Needle Tip Breakage. Multiple uses of the same needle could cause small pieces of the end of the needle to break off.
You may also be interested in