Insulin Pen Needles
Diathrive Insulin Pen Needles are made from premium materials and designed for safe and comfortable insulin injections. No prescription required!
Quality Features
Triple-bevel cannula - optimal perforation and easy penetration. So sharp you won't feel a thing!
Silicone lubricant coating - coated for a smooth, painless experience. Comfort unmatched by any other.
Thin wall technology - better insulin flow and less injection pain. Less pressure required for injection and reduced risk of insulin leakage.
Choose Your Needle Size
Insulin should be injected subcutaneously (into the tissue just below the dermis, but not deep enough for muscle). Choose from 4 sizes to meet your body's needs:
32g, 4mm - our thinnest, shortest insulin pen needle
31g, 5mm - thin and comfortable, with a little extra depth
31g, 6mm - thin and comfortable, more depth for thicker skin or angled injection
31g, 8mm - thin and comfortable, our longest insulin pen needle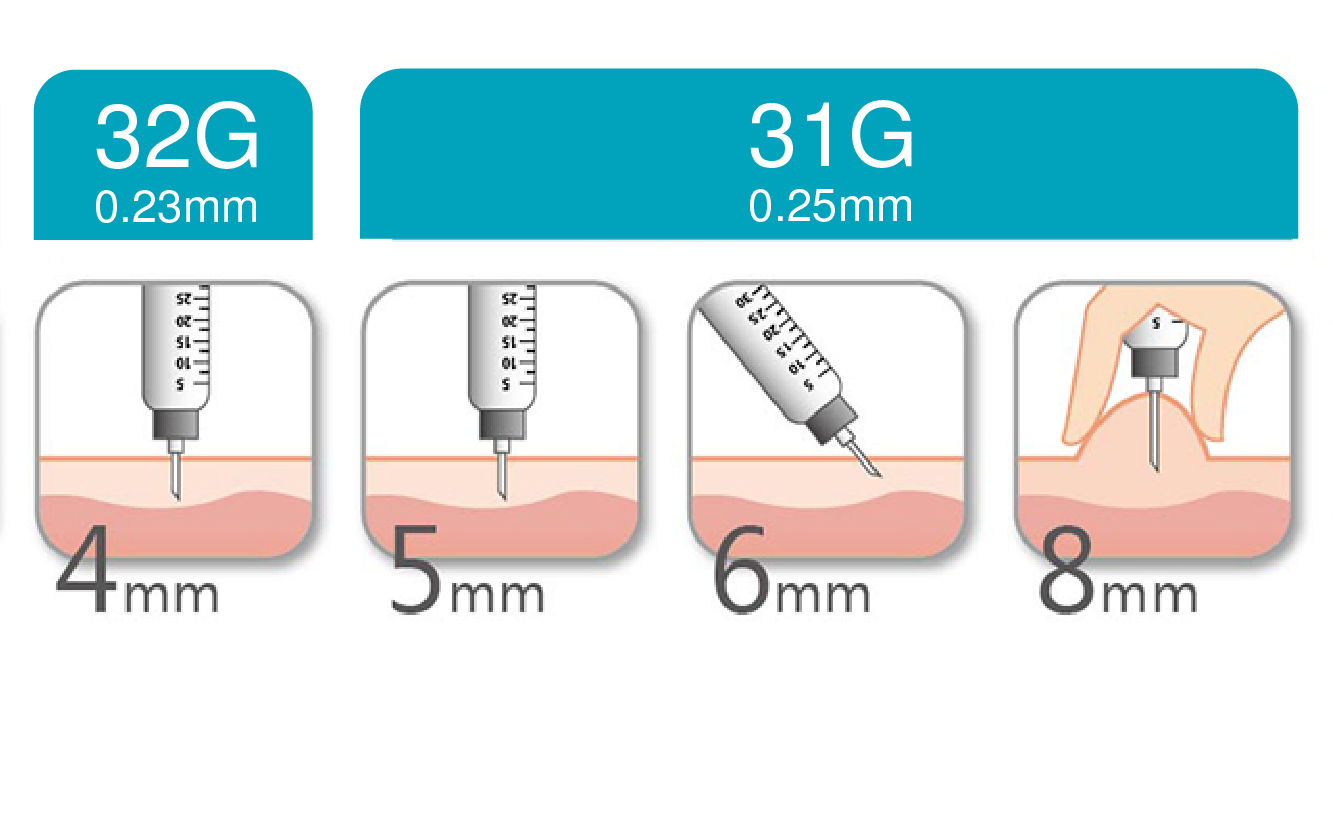 Compatible Insulin Pens
Our smooth-screw design protects your insulin pen's threads to ensure a proper connection. Our pen needles are a perfect fit for most insulin pens. Find yours below to verify fit.
Sanofi: ClikSTAR, SoloSTAR, JuniorSTAR
Lilly: KwikPen, HumaPen Memoir, HumaPen Luxura HD, HumaPen Luxura, HumaPen Savvio, HumaPen Ergo II, Humalog Pen
Novo Nordisk: FlexTouch, NovoPen 3&4&5, Innolet, FlexPen, Victoza, NovoPen Echo
Owen Mumford: Autopen Classic, Autopen Junior
Berlin Chemie: BerliPen Areo, BerliPen Junior
Companion Medical: InPen
Don't see yours listed? Contact us about which insulin pens you use and we will verify fit.
You may also be interested in