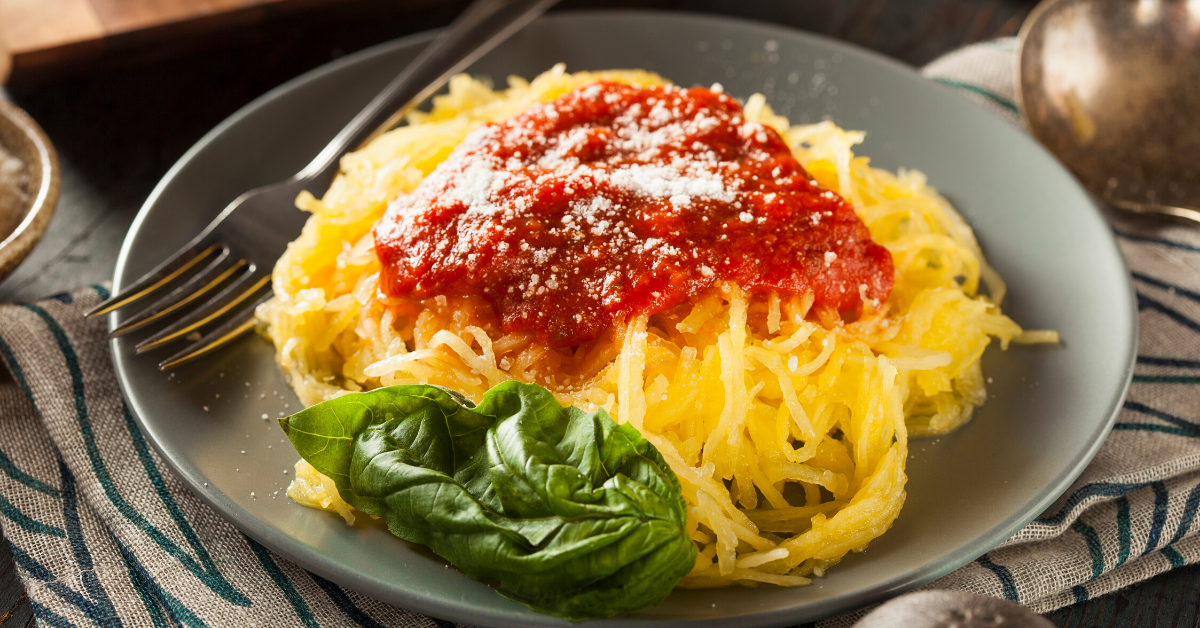 ---
Spaghetti noodles are a high-carb meal no matter what you put on top. Here's an easy replacement to increase nutrition and lower carbohydrates! 
---
Spaghetti squash is a fairly common way to replace carb-heavy spaghetti pasta. When cooked, the inner flesh of this squash comes out in long, thin strands resembling spaghetti noodles. the flavor is fairly mild, making it easy to add any sauce you want, opening up your possibilities to everything from spaghetti sauce to alfredo, to a simple butter and salt. 
The best part is how nutrient-dense this winter squash is! 1 serving of spaghetti squash (1 cup) contains calcium, potassium, vitamin A, vitamin C, manganese, pyridoxine, pantothenic acid, niacin, carotenoids, thiamine, magnesium and folate. It also has a decent amount of fiber, which lowers its total 10g carbohydrates per serving to 8g net carbohydrates. 
Here's how to prepare this versatile squash for a perfect alternative to pasta.
Ingredients
1 spaghetti squash (roughly 4 lbs)
Olive oil
Salt and pepper to taste
Directions
Preheat your oven to 400°F.
Prepare the squash: remove the stem from the squash and slice the squash in half length-wise. Dispose of seeds and stringy flesh, down to just the solid flesh.
Drizzle the flesh (inside) of both halves with the olive oil. Use a basting brush to spread around evenly across the whole squash.
Shake the desired amount of salt and pepper over the squash.
Place the squash flesh-side down on a baking pan lined with parchment paper. Poke a few holes in the outside of the squash. This will help the flesh cook through better.
Bake for up to 40 minutes. Watch for light browning on the outside.
Remove from the oven and flip the squash halve over. Allow cooling until the squash is no longer hot to the touch, but not cold.
Using a fork, begin scraping through the flesh along the hollow center to separate strands. Once everything is loose, it is ready to serve. 
Top with your sauce of choice!
Nutritional information: 
One 4 lb. spaghetti squash will give you about 5 cups. Consider 1 cup as a serving.
Calories: 66
Total Fat: 3.2g
Cholesterol: 0mg
Sodium: 859mg
Total Carbohydrates: 10.2g
Protein: 1g
Calcium: 34mg
Iron: 1g
Potassium: 184mg
Remember to count carbohydrates for whatever sauce you use with your spaghetti squash. This recipe only accounts for the squash. Enjoy!