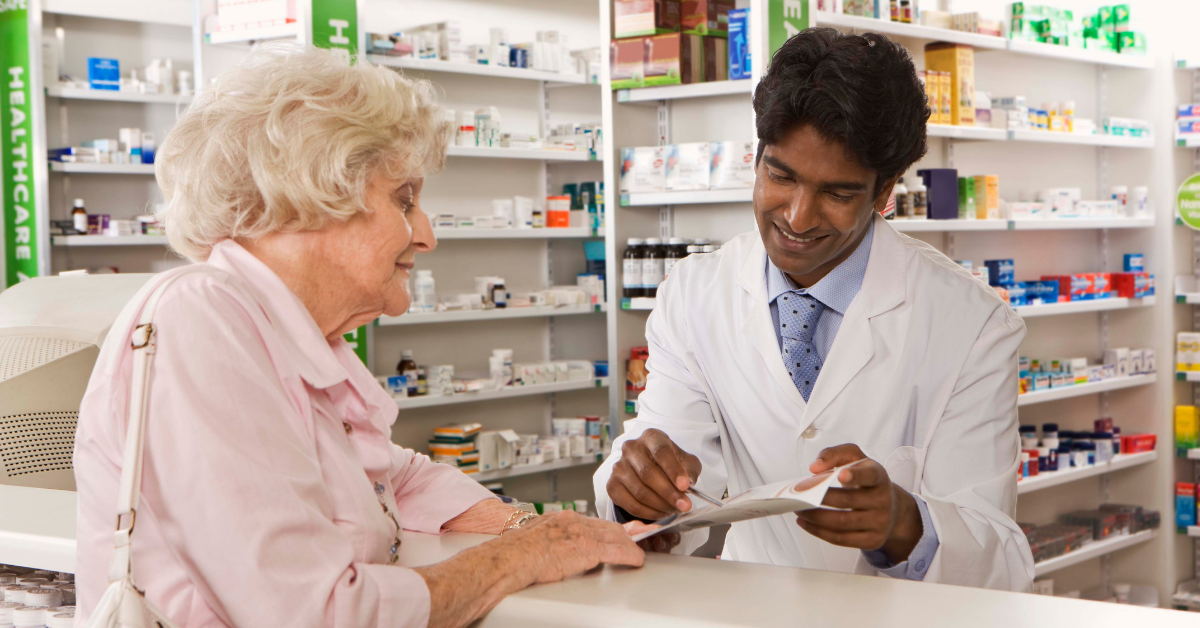 ---
"Do you have any questions for the Pharmacist today?" You normally answer, "No." But, don't let this valuable resource go unused. Here are some questions from Peg Abernathy to ask your local pharmacist. 
---
Today, there are endless self-care devices that count our steps, check our heart rate, blood pressure and oxygen levels, monitor our sleep patterns, check our blood glucose levels (thank goodness), deliver insulin (and other medications), as well as implantable devices that regulate the heart and other bodily functions. We have baby monitors that help us keep an eye on our little ones and home security systems that notify us when something is disturbed around our homes. Click, swipe, ding and there it is. New and emerging tech is everywhere. And it just keeps coming. However, for me, the biggest drawback to all this new technology is the lack of human interaction. 
We are human individuals, and I don't know about you, but while these devices can be extremely helpful, sometimes I need a more personal approach to my own self-care. Can you relate? So, let me remind you about a resource that does offer that human touch, one that may be underutilized when it comes to helping you and your healthcare team achieve better results to your diabetes and overall care… 
Your local pharmacist.
Most of us are familiar with going to the local pharmacist to pick up our medications, and perhaps ask a general question or give us help with getting our doctors prescriptions (don't get me started on THAT one). However, as we all begin to take a more self-driven approach to our personal care, our local pharmacist is a great resource towards helping us achieve that endeavor. 
Most pharmacies provide a consultation area where we can speak with them about our medications. But it seems we often leave the pharmacy without taking full advantage of that information. So many times we are in a rush and waiting to speak to a pharmacist just doesn't fit into our day. However, if you can, this might be time well spent.
An Important and Practical Resource From Your Pharmacist
Get a printout of all your medications including:
The generic and non-generic names of your medication

The daily dosage

Time of day that you are supposed to take your medication

Description of what it is prescribed for

Explanation of why it was prescribed for you
Carry your printout of all your medications with you at all times (It would also be a good idea to get extra copies for your spouse/loved one) in case of emergencies, especially if you are not able to speak for yourself. Trust me when I say that someday this could come in very handy for you or someone who cares for you. Most healthcare facilities, hospitals, on-call doctors etc. need to know this information as it is very important in your overall care. Especially if they don't know your medical history.
Questions for Your Pharmacist
The next time the pharmacy tech asks, "Do you have any questions for the Pharmacist?", say "Yes." Here are some ideas on what you might ask your pharmacist. 
What should I do if I forget to take my medication?

What should I do if I take too much of my medication?

What are the side effects?

What time of day should I take my medication?

What food, drink or OTC items should I avoid?

Are there any special programs or coupons that can help me afford my medication?

What are the laws in my town/state for the disposal of medical waste?

Does the pharmacy offer blood sugar screening, blood pressure screening, flu shots and/or other vaccines?

Do they offer any kind of diabetes education or resources? (Always check with your personal diabetes healthcare team before implementing any diabetes treatment changes.)
These are just a few ideas on questions that might be of help to you. Write your questions down and take them with you when you go to the pharmacy.
The more you know!
On we go…..
Disclaimer: Always ask your physician and personal healthcare team before taking outside health and/or medication advice from anyone.