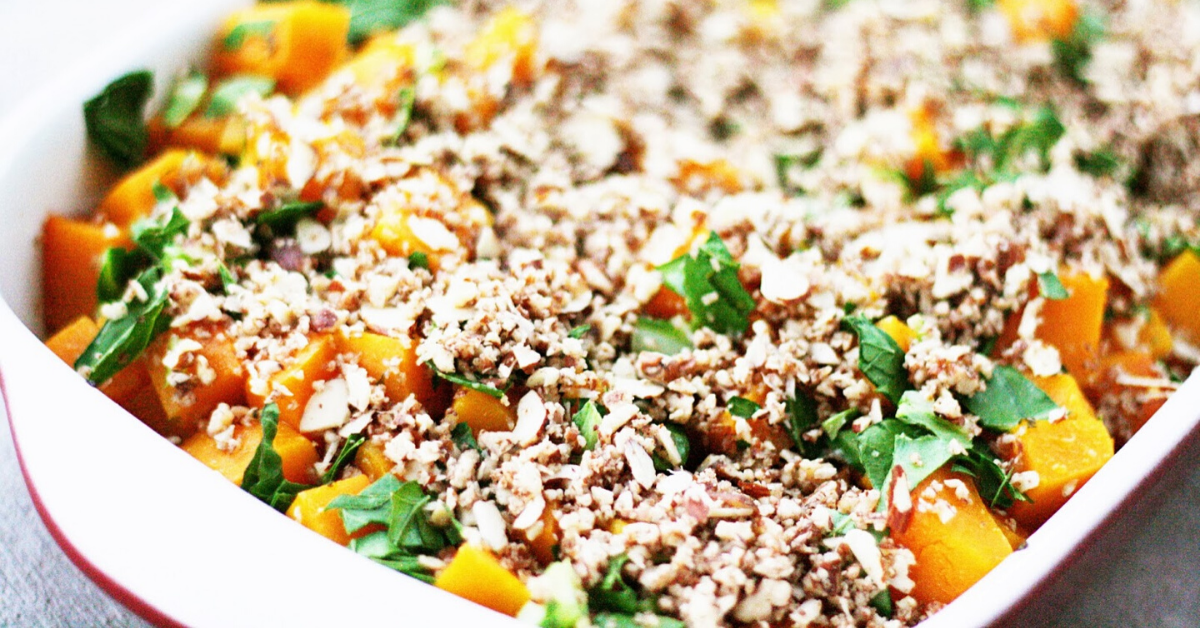 ---
Nikki Sheriff transitioned from sweet to savory squash with this recipe. Try making this masterpiece at home!
---
I used to be one of those people that used to only like their squash swimming with butter and brown sugar. But once I ventured into eating squash in it's more savory form, I fell in love. Now it's my preferred choice. Especially when it comes to this recipe. The squash is seasoned and tossed with some healthy collard greens. It's topped with chopped nuts and delicious parmesan cheese. And it's baked to warm perfection.
Ingredients
For about 15 servings: 
2 medium butternut squash
4 cloves garlic, minced
1/4 cup chopped fresh parsley
4 TBSP olive oil, divided
1½ tsp kosher salt, divided
1½ cups chopped collard greens
1/2 cup pecan halves
1/4 cup sliced almonds
1/4 cup freshly grated parmesan cheese
Directions
Prep: Mince the garlic, chop the parsley and collard greens, grate the parmesan cheese, peel and seed the squash, and cut into 1-inch squares.
Preheat the oven to 350°F. Lightly oil a 9x13 baking dish.
Mix the squash with garlic, parsley, 3 TBSP of olive oil, 1 tsp of salt and pour into the baking dish. 
Cover with foil and bake for 1 hour or until the squash is tender. Test for tenderness by piercing it with a fork.
While the squash is cooking, add nuts, 1/2 tsp salt, 1 TBS olive oil and parmesan cheese together in a food processor. Pulse a few times until it is mixed but not too finely chopped, and set aside.
When squash is done, toss in the collard greens and sprinkle the nut topping over the whole thing. Bake uncovered an additional  5-7 minutes until the nuts are lightly toasted. Watch to make sure it doesn't burn.
Remove from the oven and serve.
Nutritional Information
If you divide into 15 servings, here's how the nutritional information calculates per serving.
Calories: 96
Total Fat: 7g 
Cholesterol: 4mg
Soduim: 910mg
Total Carbohydrates: 8g 
Protein: 3g
Calcium: 79mg
Iron: 2mg
Potassium: 164mg