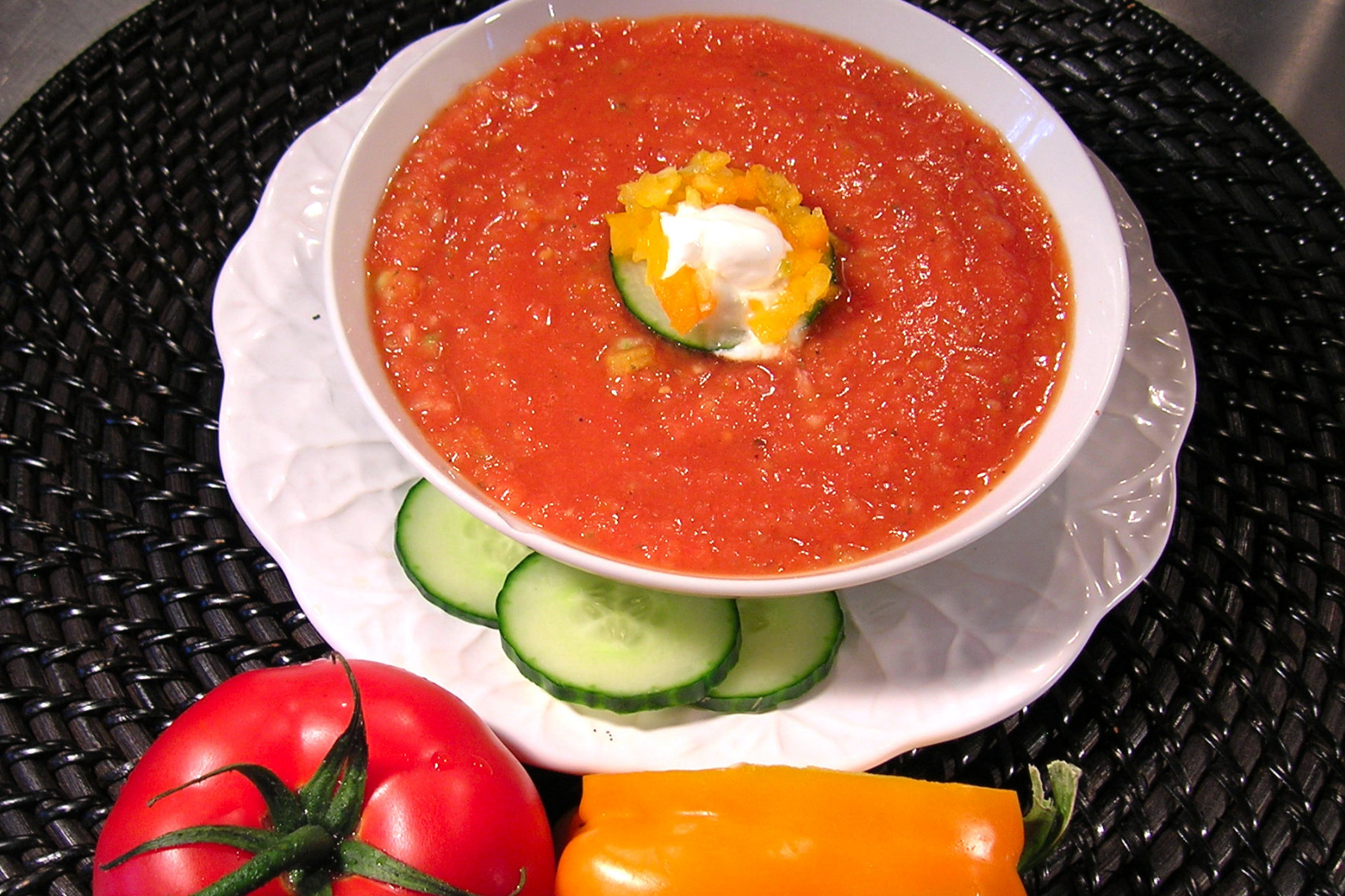 ---
Chef Ward Alper has come up with a reduced-carb Gazpacho recipe, thickened with chunky vegetables instead of bread. Here's the full recipe. 
---
This is a wonderfully easy soup to prepare. No stove and no oven. It originated in Andalusia, Spain hundreds of years ago when olive oil and vinegars came into fashion. It was originally created as a way to use up stale bread (waste not, want not) but this recipe replaces the high carbohydrates of bread with wonderful chunky vegetables.
The easiest way to make this and keep it chunky is to chop each of the vegetables separately and add them to the tomato base at the end. I also recommend holding back a little of the chopped vegetables for garnish. This soup is also great hot, or perhaps with a "splash" of vodka to make a fun Bloody Mary (for adults only of course).
To make 3 servings
Estimated net carbohydrates per serving: 10g
Ingredients
1 large cucumber, peeled and seeds removed (English/ hot house cucumbers work very well)
½ medium (4-6 ounce) red or sweet onion
¾ cup chopped bell pepper (any color)
3 cups diced canned tomatoes (San Marzano is my choice)
2 TBSP red wine vinegar
4 TBSP good olive oil
1-3 cloves garlic grated
Salt and pepper to taste (AND your doctor's recommendation)
2 TBSP fresh parsley
2 TBSP fresh basil (or 1 Tbsp. dried basil)
Directions
Cut the peeled and seeded cucumbers into chunks and process (or chop) them into very small pieces. If using a blender or processor, don't allow them to liquefy. Set aside in a small bowl.
Cut the onion into small dice and chop into very small pieces. Set aside in a small bowl.
Chop or process the bell pepper the same way as you did the cucumbers. Set aside in a small bowl.
In a blender or food processor, liquefy the tomatoes. Add the vinegar, olive oil, salt, pepper, and herbs and blend together.
Add ¾ of the chopped vegetables and stir to combine. Remember to reserve the remaining chopped vegetables for garnish and extra crunch.
Chill the soup for 2-3 hours or up to 2 days. Serve icy cold with a dollop of sour cream to smooth out the acid of the tomato.