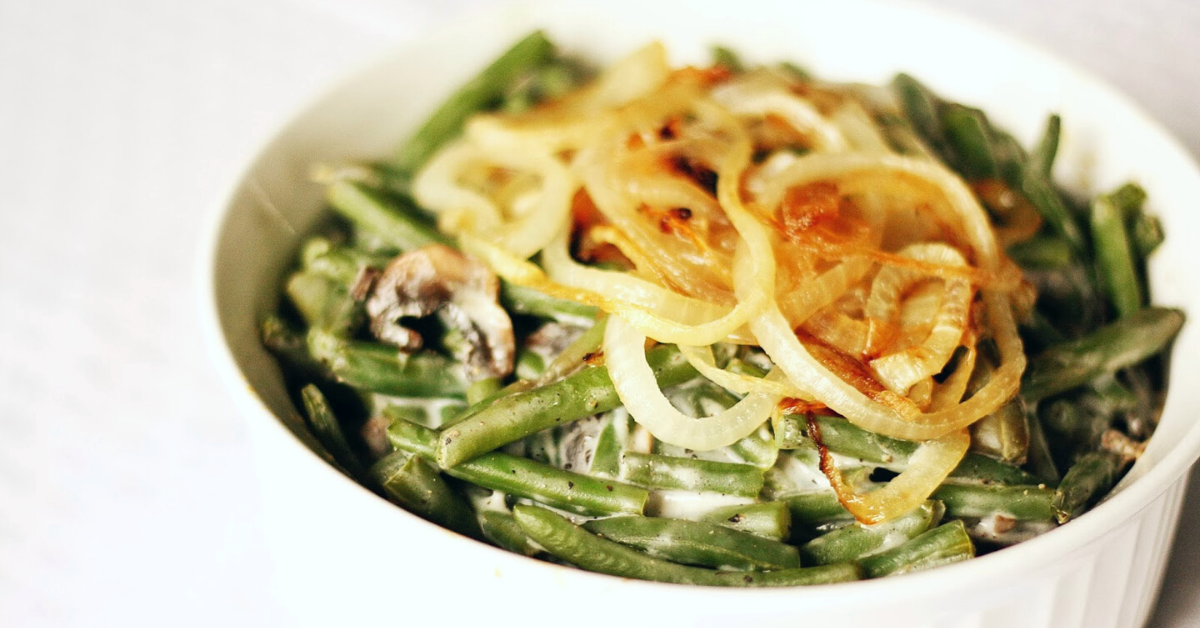 ---
Adjustments to this traditional Thanksgiving recipe make it lower in fat and carbohydrates. Get this Nikki Sheriff recipe right here! 
---
Here is an alternative to the traditional Campbell's green bean casserole, much lower in carbs and in fat. I was very excited about how delicious this turned out. As sad as it was to omit the fried onions on top, it was fantastic with the caramelized onions! 
Here's how to make this Green Bean Casserole.
Ingredients 
(Serves 8)
1½ lbs fresh green beans, trimmed and cut into bite-sized pieces
½ cup reduced-sodium cream of mushroom soup
½ cup nonfat plain Greek yogurt
¼ cup half & half
½ tsp fresh ground pepper
½ cup sliced mushrooms
½ medium white onion, sliced
2 TBSP olive oil, divided
Mrs. Dash seasoning to taste 
Directions 
Preheat your oven to 350°F. 
Grease a small casserole dish and set aside.
Boil the green beans in lightly salted water and boil until bright green softened. Meanwhile, mix the soup, yogurt, half & half and pepper in a medium bowl.
When green beans are done, drain and add to the yogurt mixture.
Heat 1 TBS olive oil in a small skillet and cook the mushrooms until browned. Remove from heat and add to the green beans. In the same skillet, heat the remaining TBS of olive oil and cook the onions over low heat until caramelized. Remove from heat and set aside.
Pour the green beans into the casserole dish and top with the cooked onions. Cover with foil and bake for 30 minutes. 
Remove foil and cook another 10 minutes.
Remove from oven and top with Mrs. Dash seasoning.
Nutritional Information
For 1/8 the recipe: 84 calories, 4g fat, 1g saturated fat, 89mg sodium, 9g carbohydrates,4g fiber, 3g protein