Want Free Testing Supplies? Here's How to Get Them.
Yes, you can receive all of your testing supplies for free. And, as many of our customers have shown, it's much easier to do than you may think.
Recently our team launched Diathrive's referral program. From the program's initial launch, we have seen two very distinct responses. The first being customers who jumped right in, referred their friends, and now have credit towards free supplies for several months or more. The second response, which has also been the more common response, has been questions about how to get started. We have received a whole slew of phone calls, emails, and chat sessions from customers who are full of excitement for the program but aren't quite sure what to do next. Hopefully, this article will clear up these questions.
How Does Diathrive's Referral Program Work?
The program itself is very simple. When someone comes to Diathrive through your unique referral URL and signs up for a membership plan, you receive a $20 account credit. It's really that easy! If you're already a customer, all you have to do to access your URL is click here and log in to your account. Once logged in, you will see the screen below. You can simply copy your Referral URL and share it.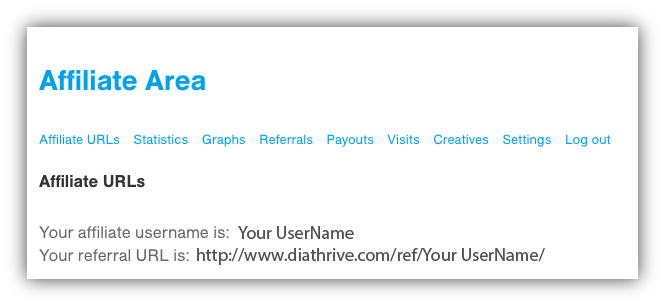 Please note, your referral URL may be different than what you've received in emails from Diathrive. That's okay. Your referral URL will work with your UserName as show here or with your Customer Number, which is what our team generally emails out. Both are unique to you. For more information about how the program works, click here.
Tips on Getting Started
Now that you have your URL to share, you may be asking where to share it. Here are several ideas that have worked for our other customers. 
Write an email: Many of our customers who have been the most successful started by emailing the URL out to friends and family members who also have diabetes. All you need to do is write a simple email about your experience and share it along with your referral URL. 
Write a post on social media: We have other customers who have had great success by sharing their URL on Facebook, Twitter, and other social media platforms. Due to multiple requests, we created the following video that explains how Diathrive works to make this even easier. A simple post about your experience is all it takes!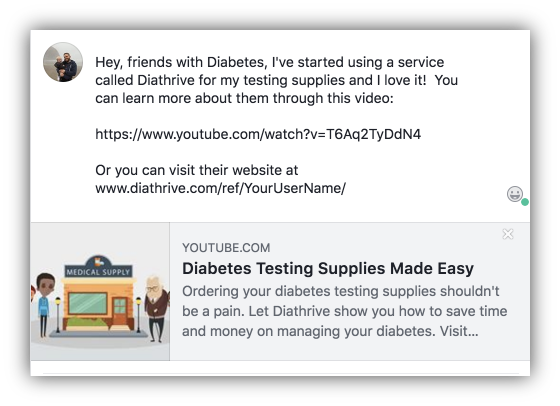 To use our video, simply copy and share this URL https://youtu.be/T6Aq2TyDdN4
Write a blog post: We have also had several customers write about their experience through their blogs. This can be very effective, especially if your blog is either about your experience with diabetes or if it's a personal blog about your life. Regardless of how you share, don't forget to include your unique referral URL. This is the only way our team can keep track of the people you refer to Diathrive.
What if I'm Not a Diathrive Customer?
What are you waiting for? You can get started today. Simply select the plan that is right for you based on the number of times per day that you test. You can do that by clicking here. If you're not ready to get started yet, you can register for a referral account to start referring friends today. That way, when you are ready to get started, you'll already have credit towards your account. To register for a referral account, click here.
---