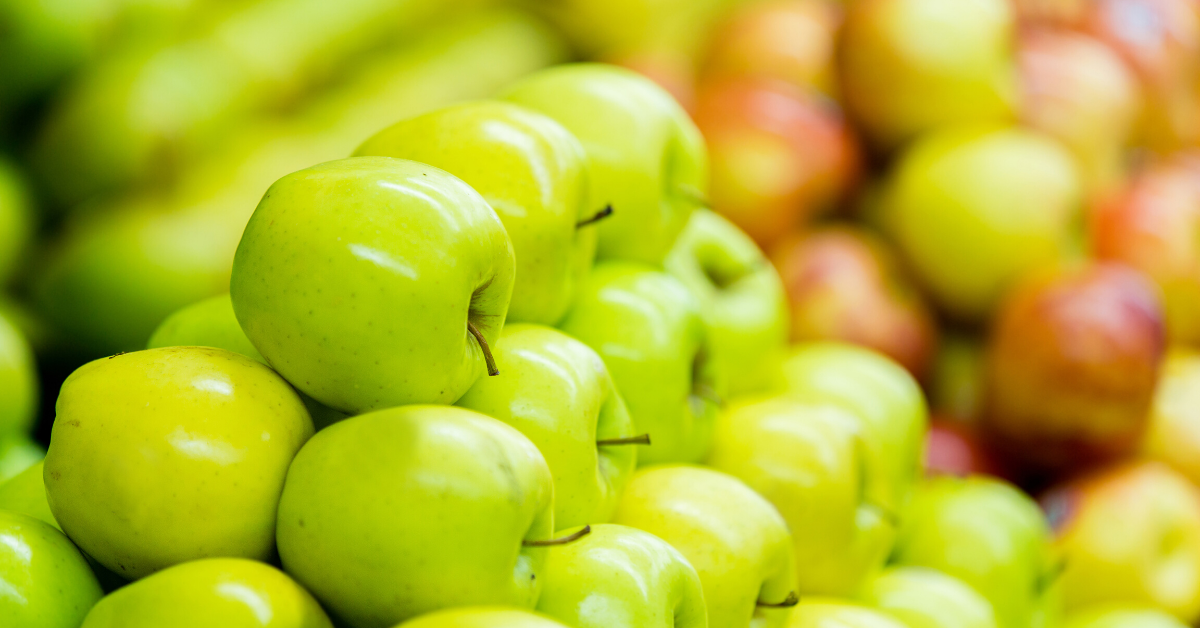 ---
Apples are more than just sugar. An apple a day may be worth it for your health. Take a look at history, nutritional info, and FAQs about apples from diabetes educator Timika Chambers. 
---
Diabetes Problem Foods, Pt. 3
An apple, out of all the fruits, often gets a bad reputation. As one of my clients put it, "apples are full of sugar." Although apples naturally contain fructose, a simple natural sugar found in many fruits, apples provide fuel and nutrients that support many of the body's functions. For example, apples contain antioxidants and fiber, which may help protect the brain from Alzheimer's, decrease the risk of strokes, type 2 diabetes, heart disease, and certain cancers. An apple a day may be worth your health, especially with the polyphenols in apples having the potential to boost insulin sensitivity and reduce insulin resistance. 
History of Apples
According to research, apples originated in the Tien Shaun Mountains in Kazakhstan, a country in Central Asia, millions of years ago. The Jamestown settlers brought seeds and began harvesting apples in 1607. Apples rank as the second most favorite fruit, coming in second to bananas. They are grown in every state and generate billions of dollars annually. Apples are used in Ayurveda medicine to help with constipation and balance energies. 
Apple Nutritional Information
One medium apple supplies a low 95 calories and has a low glycemic index, helping keep blood sugar levels better regulated and reducing the blood sugar spike you might expect from biting into a crisp Golden Delicious. Apples are considered to be cholesterol, fat, and sodium-free food. Apples contain fiber which helps in slowing the breakdown of sugar and improves gut health, where our immune system centers and serotonin is produced (which is critical in helping us maintain mental stability and ward off depression). Apples provide antioxidants, minerals, and vitamins including A, B, C, E, and K, so it's no wonder they're so good for our overall health and are considered a part of a healthy diet.
One medium apple provides:
Quercetin, an antioxidant found in apples that helps decrease inflammation and keep cells healthy.

Pectin, a soluble fiber that helps maintain gut health by helping clear waste from your system and may play an important role in decreasing Low-Density Lipoproteins (LDL), the bad cholesterol.

195 grams of potassium, 5% of the recommended daily allowance.

25 grams of carbohydrates (19 grams of sugar), your body's main source of energy. 

4.4 grams of dietary fiber content (subtract from total carbohydrates to calculate net carb count of 20.6g).

14% recommended daily value of Vitamin C.

5% recommended daily value of Vitamin B6.

2% recommended daily value of Magnesium.
Apple FAQ
Is it best to eat an apple by itself?
With any fruit, it is best to combine eating apples with a protein and good fats to increase satiety. Pick a small apple or cut a larger one in half, saving the other piece for later. Combine an apple with other food items such as cottage cheese, a serving of peanut butter or turkey, or cheese slices. 
I like to remove the skin of the apple before I eat it. Am I missing out on anything when I do this?
More than 80% of the fiber in an apple is in the skin of the apple. Also in the skin are Vitamin C and flavonoids, nutrients that help protect the cells in your body.
I love apples. With diabetes management in mind, can I eat any size apple?
Although apples come in different sizes and have health benefits, moderation is the key to optimal blood sugars and sustainable health. Usually, I encourage people with diabetes to start with a small or medium-sized apple for their portion size.  As noted above, you can combine an apple with a healthy protein and fat to increase satiety. 
I cannot tolerate apples. What other fruits can give me the same benefits?
Apples are considered a high-fructose food, and if you are fructose intolerant (gas, abdominal pain, diarrhea) you may have a hard time digesting apples as if you were lactose intolerant and consuming dairy products.
For similar health benefits, you can consume other whole fruits and vegetables such as bananas (known for potassium), blueberries (anti-inflammatory), strawberries, carrots (beta-carotene promotes the protection of eyes), avocados, green beans, and lettuce. Serving sizes vary.
How can I incorporate apples into my meals?
Apples easily work into many meal plans, especially when you're aiming for a moderate-carb diet, weight loss, or low-GI. 
You can make homemade applesauce with just a few ingredients, cut up apple slices for a salad, or serve with many of your favorite meats, such as poultry and pork chops. You can make a fresh fruit salad in so many different ways, too. Homemade apple pies, apples in yogurt, and even apples in smoothies are great ways to enjoy this superfood as a dessert. 
As good as apples are, try not to get carried away with apple juice and other fruit juices, which tend to have very high sugar content. 
Be mindful that when you make your food at home, you have a better idea of what you are really eating. 
As always, use this control over what goes into your food to make managing your blood glucose levels that much easier. 
Here are some resources to help you enjoy this amazing fruit.
Diathrive - Apple Zucchini Crisp  
Diabetic Gourmet - 10 Diabetic-friendly Apple Recipes