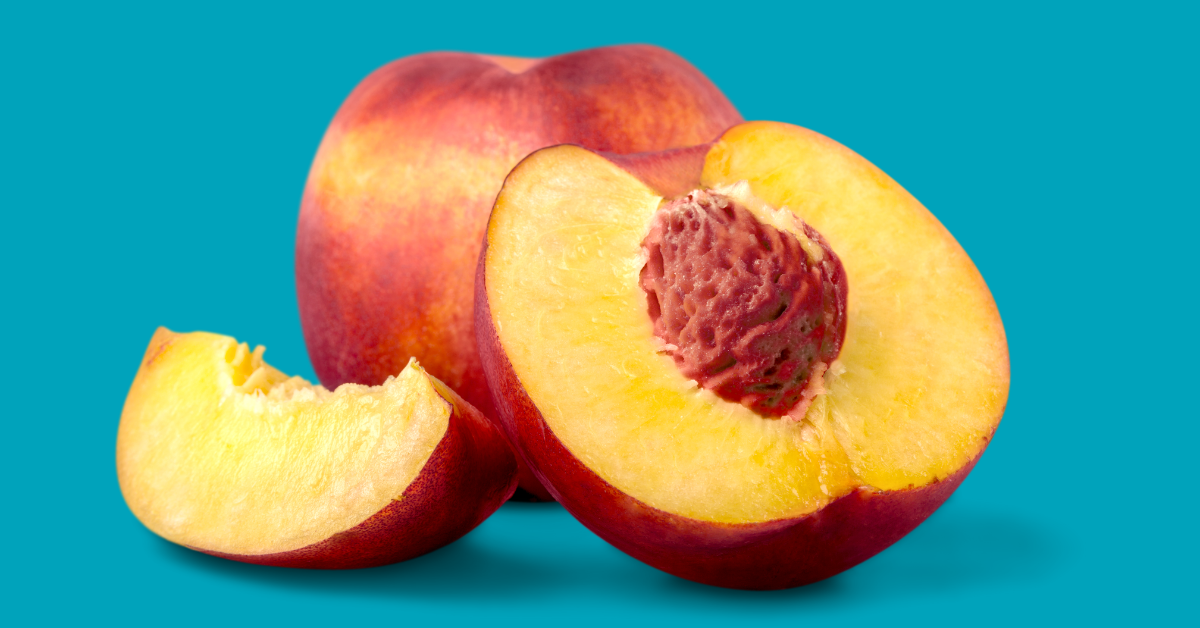 ---
People with diabetes often hear opinions about what foods are okay to eat or not. But what's the truth? Here is some perspective about peaches from Timika Chambers, CDCES. 
---
Diabetes Problem Foods, Pt. 10
In late spring, peaches begin their growing season, and many people, including those diagnosed with diabetes, look forward to enjoying their fuzzy skin and juicy sweet flesh. Although peaches can be enjoyed by themselves, they add tons of flavor and natural sweetness to many recipes, including kabobs, pies, preserves, and salads. Many people enjoy peaches in their favorite desserts such as cobblers, crisps, and peach pies due to canning. 
Peaches are classified into three groups: freestone, clingstone, and semi-freestone. Clingstones are considered the sweetest of the three. Approximately 300 peaches grow in the United States, and over 2000 varieties are grown globally. 
Can people with diabetes eat peaches?
Like many fruits, peaches can be enjoyed without the fear of elevated blood sugars via self-assessment (regular blood sugar assessment), proper planning, and by eating a well-balanced and proportioned meal. Be mindful of your diabetes treatment plan and eat in moderation.
History of Peaches
Research reveals that peaches originated in China around 1000 BCE. China considers the peach tree to be the tree of life and symbolizes eternal life and peace. Spanish explorers brought peaches to South America, and by the 1600s, they were in Mexico. Originally, peaches were grown by the higher social classes until commercial farming in the 19th century. California produces 50% of peaches and approximately 175 varieties. 
Did you Know?
The juice of peaches can be found in certain cosmetics. 

The way to ripen peaches is to place them in a brown paper bag for 2-3 days.

Nectarines are one of the varieties of peaches. 

Along with apples and pears, peaches belong to the rose family. 

Yellow varieties are rich in vitamin A.

Georgia is known as the peach state for the quality of peaches the state produces.
Nutritional Facts About Peaches
Peaches fall into the category of low glycemic, fat(0.5mg), and sodium food. One medium peach contains 60 calories, 1 gram of protein, 15 mg of Potassium (5% of daily value), and 15 grams of carbohydrates, whereas one small peach contains approximately 12 grams of carbohydrates. 
When we think about nutritional facts, think about the benefits that will help optimize your health. As you know, PDWDs are at an increased risk of digestive issues, heart disease, and poor circulation, leading to delayed skin healing. Some of the potential benefits of some of the nutrients found in peaches are listed below. 
 6% of Vitamin A (help with the eye, immune, and skin health), 

15% of Vitamin C (help in healing and immune function and helps absorb Iron),

2% of Iron (help in healing, brain, and muscle function, and oxygenation of the body), and 

2 grams of fiber (help with improving digestion, cholesterol levels, and blood pressure).
Peach Recipes
If you are looking for some healthy peach recipes, check out the links below. 
Peach Health and Safety
Keep in mind that fruits can be recalled as with other foods. To keep up-to-date with recalls and other notifications, go to the Food and Drug Administration (FDA) website.
Remember that you are worth finding the right meal plan for yourself. Your nutritional needs will change depending on your activity level, age, desired goals, and weight. 
To your best health!