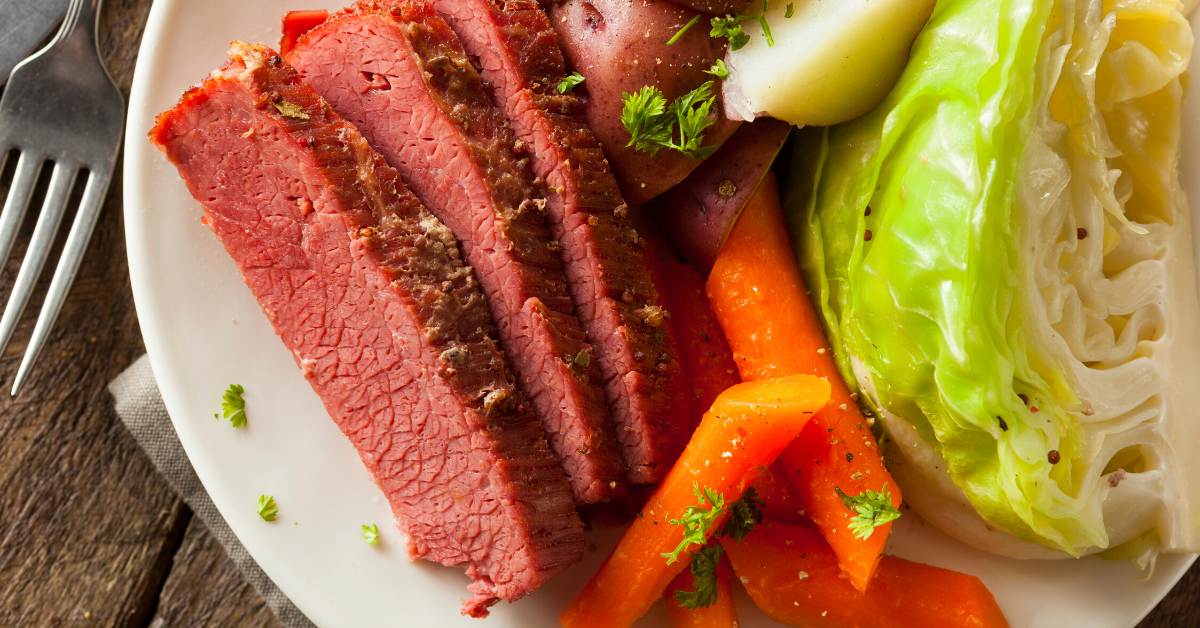 ---
Regular, or lower-carb? Here are 2 ways to make Corned Beef and Cabbage. Try one out for your St. Patricks Day celebration. 
---
St. Patrick's Day in the United States is a time to come together dressed in green to drink beers and eat foods we think are traditional in Ireland (corned beef and cabbage isn't a traditional Irish meal, but its historical ties to Irish people make it a great dish for your St. Patrick's Day traditions). One thing's for sure though. Ireland has history with potatoes. 
While potatoes are totally fine to eat if you have diabetes, it must be done mindfully and with consideration for how it will affect blood sugar. Learn more about eating potatoes with diabetes here. If you'd like to skip the potatoes to keep total carbohydrates down, replace the potatoes in this recipe with turnips. The upside is the decrease in carbohydrates because it will reduce the blood sugar impact of this meal. The downside is the decrease in nutrients like vitamin K and phosphorous. Whichever you choose, you'll love it just as much! 
Ingredients
To make 6 servings:
3 lbs. corned beef brisket (including seasoning packet)
1/2 tsp crumbled bay leaf
4 medium carrots
1 medium yellow onion
9 small red potatoes (or 2 medium turnips)
1 small head of cabbage 
2 TBSP butter
Parsley for garnish
Directions
Prep: Cut carrots into smaller pieces (about 2 inches in length).  Cut each potato in half. Chop the cabbage into 6 wedges. If you decide to use turnips instead of potatoes, try cubing the turnips instead of halving them. Here's how to cook the meal:
Place corned beef into a large pot and sprinkle with the whole seasoning packet and bay leaf. Fill the pot just to the top of the meat. 
Bring the pot to a boil, then reduce heat and let it simmer for 3 hours. 
Add carrots, onions and potatoes to the pot, and increase heat back to boil. 
After boiling for 5 minutes, add the cabbage and continue boiling for 5 additional minutes.
Remove everything from the pot immediately and serve.
Plating:
Slice up the beef as thick or thin as you'd like and divide evenly into 6 servings. Place 3 potato halves on each plate with carrots and a cabbage wedge. Lightly brush melted butter on the vegetables and lightly pepper for some extra flavor. Garnish with parsley. 
Nutritional Information
If made with potatoes: 
Calories: 795
Fat: 45g
Cholesterol: 152mg
Sodium: 1743mg
Carbohydrates: 54g 

Fiber: 8.5g (subtract fiber from total carbohydrates to get 45.5g net carbs)

44g Protein
Vitamin D: 13% daily value (DV)
Calcium: 9% DV
Iron: 45% DV
Potassium: 34% DV
If you switch out potatoes for turnips:
Calories: 628
Fat: 45g
Cholesterol: 152mg
Sodium: 1754mg
Carbohydrates: 16g

Fiber: 4.5g (net carbs reduced to 11.5g)

Protein: 39g
Vitamin D: 13% DV
Calcium: 8% DV
Iron: 35% DV
Potassium: 11% DV
---