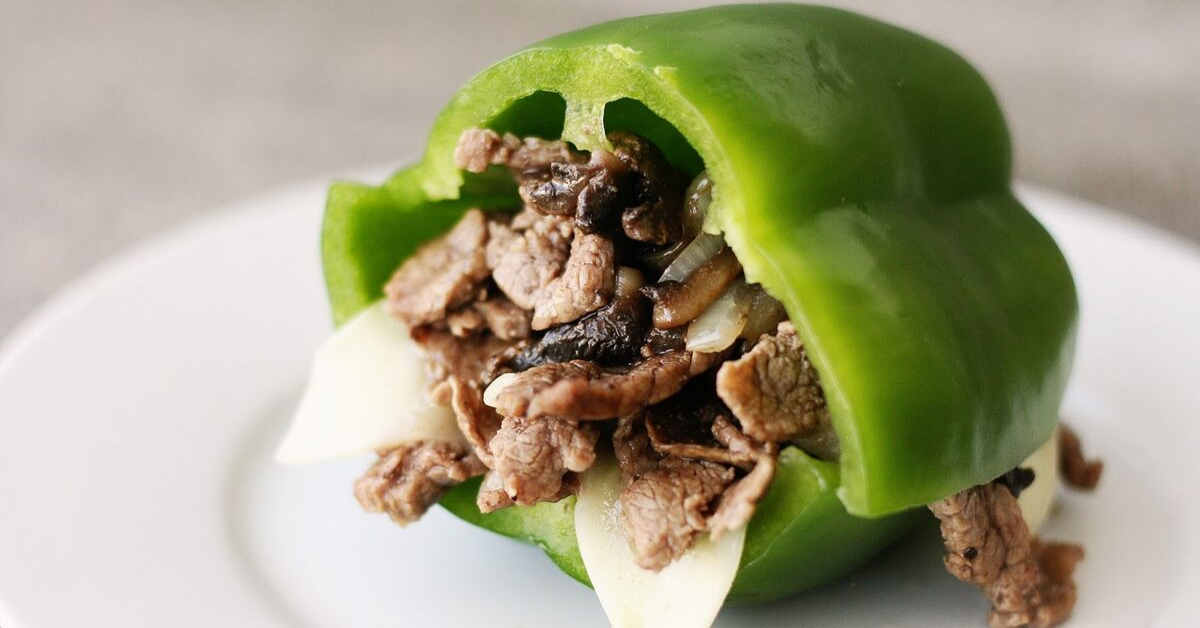 ---
Low-carb Sandwich Idea: Go bread-less with this cheesesteak recipe! 
---
I love Philly Cheese Steak sandwiches. LOVE. The heartiness of the meat-onion-pepper combo is just so satisfying. Since low-carb versions of all my favorites is what I do, here's a favorite for you to try!
Ingredients
Makes 2 servings:
2 medium green peppers
½ lb steak 
½ yellow onion, thinly sliced
½ cup sliced mushrooms
1 TBSP butter
a dash of hot sauce
salt & pepper to taste
2 slices of provolone cheese
Directions
Cut the tops off of the green peppers, but not the bottoms. Slice the peppers in half, lengthwise. Wash and pull out all the seeds. Pat them dry and set aside.
Very, very thinly slice the steak against the grain, as thin as you can get it. 
Melt the butter in a large skillet over medium-high heat. Add the steak and salt and pepper and stir every few minutes, letting the steak get brown. When it's almost cooked all the way, add the onion and mushrooms. 
Cook until the onions are soft and transparent. 
Spoon 1/4 of the filling onto one green pepper half. Top with two half slices of provolone and then put on another 1/4 of the filling. Top with the other green pepper half. Repeat with the 2nd serving.
Enjoy these Philly flavors with very few carbohydrates!
For 1 cheesesteak
Calories: 468.5
Fat: 30.5g
Carbohydrate: 9g
Protein: 39.5g 
Sodium: 984mg