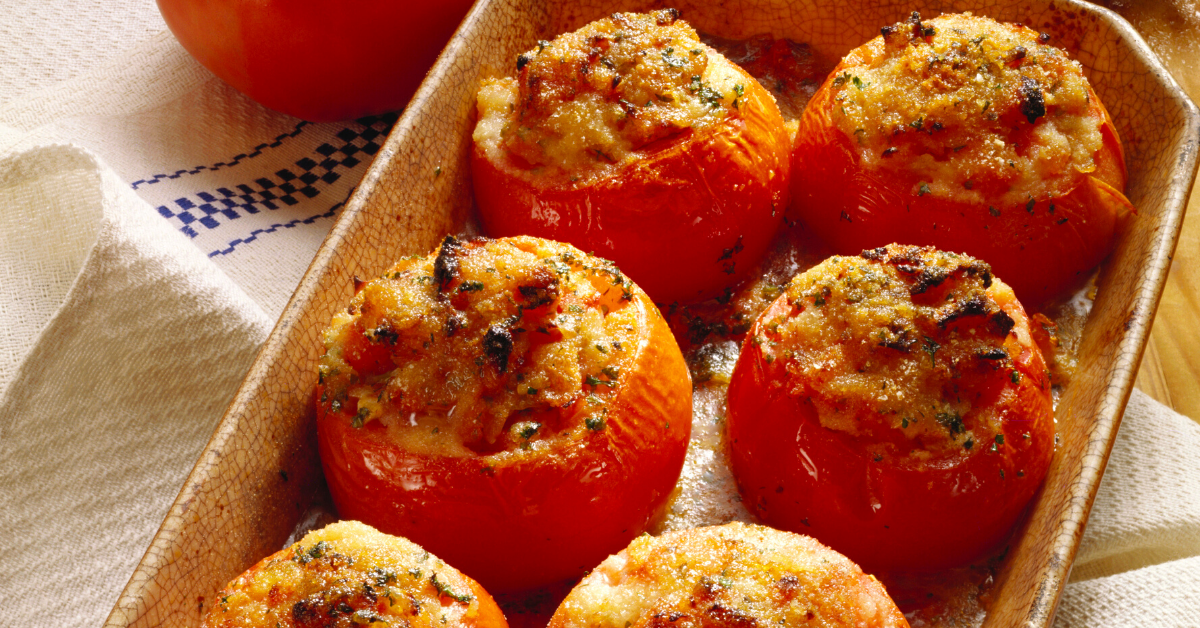 ---
Here's a delectable way to serve tomatoes for dinner. Try it this week! 
---
Fresh tomatoes are flavorful and healthy. A medium beefsteak tomato has 20% of your recommended daily value (DV) of Vitamin A, 60% DV Vitamin C, and other essential nutrients on top of just 4 grams net carbohydrates. Make them into a main course with this simple recipe! 
Ingredients
6 beefsteak tomatoes, (or medium tomatoes you prefer)
6 bacon slices
1/2 cup bell pepper, chopped
1/4 cup grated parmesan cheese
1/3 cup croutons
salt and pepper to taste
Directions
Preheat oven to 350°F. Grease an 11x7" baking dish.
Chop bell pepper.
Wash tomatoes and slice off stems. Scoop pulp out and set aside.
Place bacon strips in a large, deep skillet. Cook over medium-high heat until evenly brown. Drain, crumble and set aside. 
Finely chop 1/3 cup of tomato pulp and place in a medium bowl, discarding the remaining pulp.
Stir bacon, green pepper, cheese, croutons, salt and pepper well into tomato pulp. Spoon the mixture into each hollowed tomato and place on the prepared baking dish.
Bake up to 25 minutes and serve.
Total fat: 15g. Sodium: 332mg. Potassium: 582mg. Total carbohydrates: 11g. Dietary fiber: 3g. Protein: 7g.