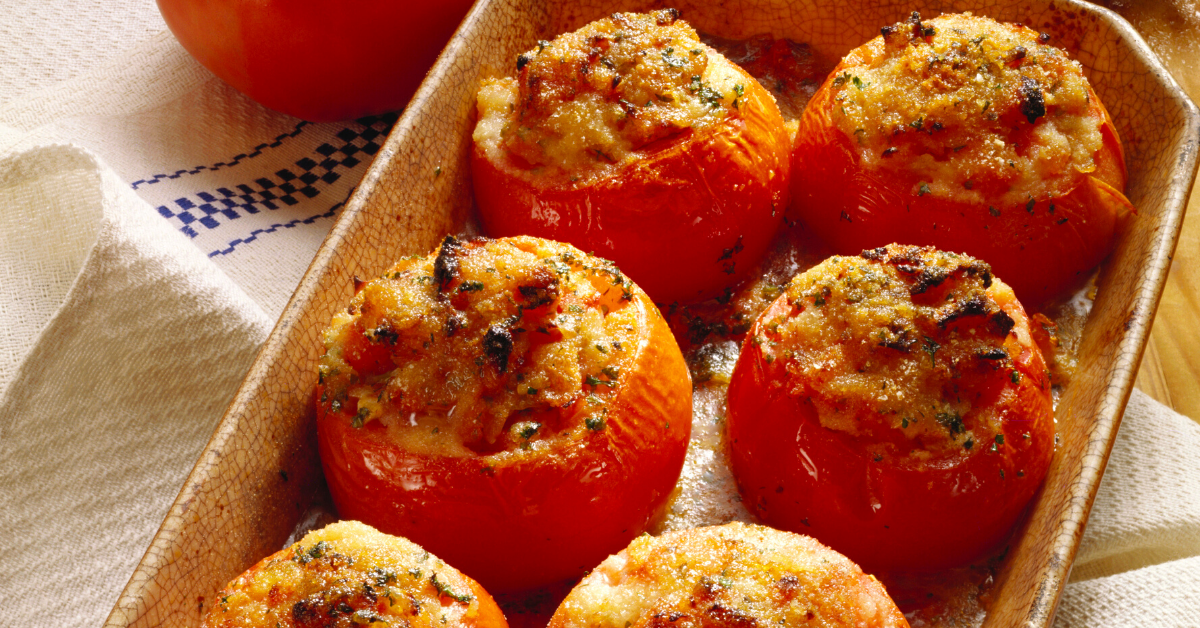 ---
Here's a delectable way to serve tomatoes for dinner. Try it this week! 
---
Fresh tomatoes are flavorful and healthy. A medium beefsteak tomato has 20% of your recommended daily value (DV) of Vitamin A, 60% DV Vitamin C, and other essential nutrients on top of just 4 grams net carbohydrates. Make them into a main course with this simple recipe! 
Ingredients
6 beefsteak tomatoes, (or medium tomatoes you prefer)
6 bacon slices
1/2 cup bell pepper, chopped
1/4 cup grated parmesan cheese
1/3 cup croutons
salt and pepper to taste
Directions
Preheat oven to 350°F. Grease an 11x7" baking dish.
Chop bell pepper.
Wash tomatoes and slice off stems. Scoop pulp out and set aside.
Place bacon strips in a large, deep skillet. Cook over medium-high heat until evenly brown. Drain, crumble and set aside. 
Finely chop 1/3 cup of tomato pulp and place in a medium bowl, discarding the remaining pulp.
Stir bacon, green pepper, cheese, croutons, salt and pepper well into tomato pulp. Spoon the mixture into each hollowed tomato and place on the prepared baking dish.
Bake up to 25 minutes and serve.
Total fat: 15g. Sodium: 332mg. Potassium: 582mg. Total carbohydrates: 11g. Dietary fiber: 3g. Protein: 7g.
Nutrients in Tomatoes
Tomatoes are a great source of antioxidants (lycopene), Vitamins A, C, and K, potassium, and folate.
Lycopene is what gives tomatoes their red color and is an antioxidant that helps protect your body from damage caused by free radicals.
Vitamin A helps organs like the heart, lungs, kidneys work properly, and plays an important role in maintaining the body's immune system.
Vitamin C is necessary for growth, repair, and development of your body's tissues.
Vitamin K plays a role in blood clotting.
Potassium is important for nerve and muscle health and helps balance sodium levels in your body.
Folate is important in the formation of red blood cells and for healthy cell growth.
Lastly, research suggests that the heart healthy benefits of tomatoes help reduce the cardiovascular risk that is linked to type 2 diabetes.
Let's Talk About Bacon
Just because you may be living with diabetes doesn't mean you have to completely cut out foods you love. It can be a little bit complicated if you have diabetes because bacon has high fat and salt content, which may not cause spikes in blood sugar, but can affect different areas of health that people with diabetes need to watch out for, such as hypertension and cholesterol levels.
The good news is bacon in moderation is generally just fine if you watch just a few things:
A little goes a long way. Bacon has a distinct intense flavor, which is why many people love it so much. This recipe has just six slices for an entire family meal.
Manage the fat. Obviously, bacon has a high fat content, that's one of the reasons it tastes so good. You can choose lower fat options and reduce fat in cooked bacon by preparing it in the oven or microwave as an alternative to frying. Use an elevated rack when oven cooking and paper towels under bacon when cooking in the microwave. Using this method, the bacon doesn't cook in the fat, rather the fat drains away as it cooks.
Make room for bacon. If you are living with diabetes, you know it is important to be mindful of what you eat. When you are planning your meals, simply make room for bacon and adjust your diet accordingly. Remember, everything in moderation. 
Let's Talk About Cheese
This recipe has a relatively small amount of cheese, but it's a good idea to check the salt content of the cheese you purchase. 
A little salt is fine, but many people over-do their salt consumption. The CDC recommends 3.4 grams of salt a day, and the American Heart Association recommends about 1.5 grams. 
When you compare this to the amount of salt most people eat a day (between 6 and 18 grams), you can see where salt can cause problems. 
Although salt doesn't affect blood glucose levels, too much salt can increase blood pressure. People living with diabetes are twice as likely to have high blood pressure. Knowing this, make sure that managing salt intake is part of your diabetes care plan.