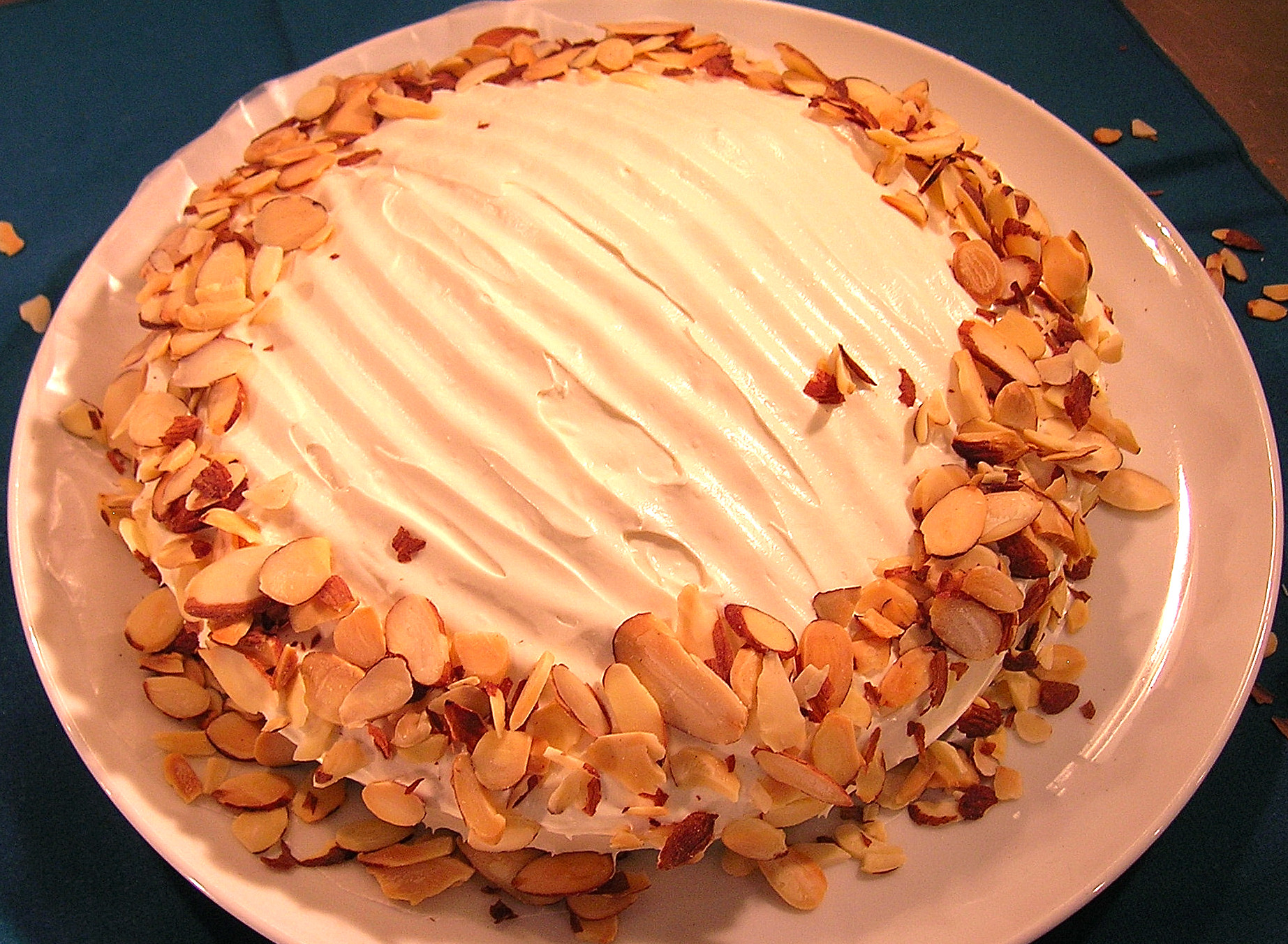 ---
Ready for an amazing Almond Créme Cake? Chef Ward Alper has one for you. This happens to be one of his favorites and we are excited to bring it to you! 
---
To serve 6 or make 6 cupcakes
Cake: 13g net carbohydrates per serving
Frosting: 2.5g net carbohydrates per serving
TOTAL: 15.5g net carbohydrates per serving
Cake Ingredients
2/3 cup flour (you can replace up to 1/2 the amount with whole wheat flour)
1/2 cup toasted almonds OR 1/3 cup almond flour
1 tsp cinnamon
1/8 tsp ground cardamom

 

(if you can find it)
1 tsp baking powder
1 tsp baking soda (1/2 into dry mix, ½ into wet mix

)

pinch of salt

1/2 stick (4 ounces) of butter at room temperature

1/4 cup vegetable oil

1 cup granulated sugar substitute

3 large eggs at room temperature

1 tsp pure vanilla extract

1/2 tsp almond extract

2 tbsp sour cream (low-fat is ok BUT NOT fat-free)

1 tsp cider vinegar
Directions
Dry Ingredients
In a food processor:
Combine nuts, salt, and 1/3

 

cup flour. Pulse until the nuts are totally pulverized. Add the remaining 1/3

 

cup flour, and spices. Pulse until combined. 
Add baking soda and baking powder and pulse until combined. (I almost always do this a day ahead).
Wet Mixture
Easiest if you have a stand mixer:
Cream butter and cup granulated sugar substitute until light and fluffy. Add the oil and beat until well combined. Scrape down the sides of the bowl. Add vanilla and almond extracts. 
Combine the sour cream and vinegar. Add remaining ½ tsp. of baking soda to sour cream and stir. 
Alternately add the dry ingredients and the eggs and sour cream mixture. Start with the dry.

 

MIX ONLY UNTIL JUST INCORPORATED otherwise you wind up with bread. 
Baking Directions
Preheat your oven to 350F. 
Poon the batter into an 8-8 ½ inch spring-form pan (well greased) or cupcake tin lined with paper cups.
Bake for 26-28 minutes (17-22 minutes for cupcakes) or until tester comes out dry from the center.
Allow to cool and remove from baking pan before frosting.
Frosting Ingredients
8 ounces cream cheese (can use low-fat but NOT Fat-free)
1/2 cup granulated sugar substitute
1/2 tsp vanilla extract
1/2 tsp almond extract
1 TBSP amaretto liquor (optional)
Almond Créme Frosting Directions
Bring the cream cheese to room temperature either by leaving out overnight or by removing the cheese from the package and microwaving it for 12 seconds then turning it a quarter turn and microwave it another 12 seconds, repeating until the cream cheese has softened. 
Beat in all ingredients until smooth 
Frost cake when it is still slightly warm.
To keep the serving plate clean, turn the cake out on to two pieces of parchment or waxed paper each big enough to cover ½ of the cake. Frost and remove paper before chilling.
Enjoy!