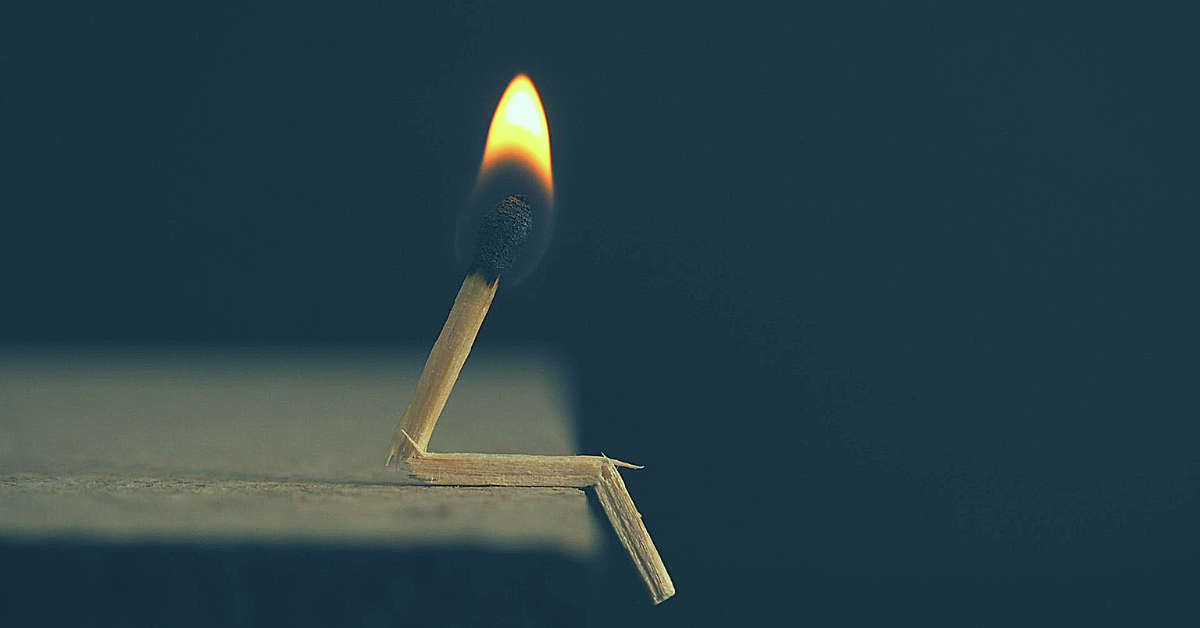 ---
Ginger Vieira, the author of Dealing with Diabetes Burnout, shares 8 important points to help you find your way back. 
---
If you were hired for a new job, and your boss said you had to show up for work every single day, work all day long (even during your lunch break), all evening when you went home, and all night long while you slept...wouldn't you expect to get pretty tired of that job really quickly?
And yet, we beat ourselves up for getting "burnt out" on diabetes management even though living with this disease is a non-stop, 24-hours-a-day, 365 days per year kind of job.
Instead, I think we should expect burnout. And by doing so, not only will it be less catastrophic, we might even move through it more quickly. 
Here are 8 things I think everyone with any type of diabetes should know about "diabetes burnout."
Burnout can look or feel like anything. There's an assumption that "burnout" means you've stopped pricking your fingers, you're barely taking your insulin, and you've basically given up. That may be the experience of burnout for some, but it's not the only experience. Burnout for you may simply be that you're feeling really resentful and emotionally weighed down by the demands of diabetes even while you're taking your insulin, counting carbs, and keeping an eye on your blood sugar. Burnout can look like anything. And your version of burnout -- no matter how mild or severe -- is legit, and it matters.

The sooner you acknowledge it and let yourself feel it, the better. If you don't give yourself permission to feel sick and tired of diabetes management, your burnout can easily (and rapidly) turn into guilt, shame, and hate. The sooner you acknowledge how you're feeling, the sooner you can fully feel it and work through it. There is no shame in being really sick and tired of living with diabetes. There's nothing easy about dealing with any type of this disease.

Putting the specifics of your burnout down on paper helps. You can't work through something if you don't know the details of the issue. For some people, burnout might be about having to wear insulin pumps and CGMs. For others, it might be the pressure to eat perfect and a yo-yo relationship with carbs. What is your burnout about? Figure out the details. Write them down. Tell them to a friend. Get the details out. And heck, talk about it with other people with diabetes in person or online! You'll get a quick reminder that you are definitely not alone. (Tip: use hashtags like #T1D, #T2D, and #type1diabetes to find other people with diabetes on Instagram, Facebook, and Twitter.)

Then, let your burnout simmer -- safely -- for a bit. Acknowledging your burnout doesn't mean you have to go fix it and get over it immediately. Some burnout phases might last a few days while others last a few weeks or months and months! As long as you're taking care of yourself and keeping your blood sugars within a reasonably safe range for your daily wellbeing, it's okay to feel your burnout as you gradually find your way through it. 

Make changes that take care of you. Sometimes stepping back by widening blood sugar goals or removing "rules" around food you usually try to adhere to can be a great way of relieving the pressure and stress that is causing burnout. Think about what habits (physical or mental) you have that are contributing to your burnout. And maybe there are other contributors like a healthcare team that isn't giving you the support you need (time to find a new team) or parents who are increasing your pressure (time to give them a little talking to). 

Create a realistic plan rather than jumping back in at 100%. If your burnout, for example, revolved around avoiding testing your blood sugar, then expecting to start testing again 4 to 6 times a day is probably a bit unreasonable. Instead, create a goal or plan for yourself that you'll start texting once a day (an increase from zero). See how that goes for a week or two, and when you're ready, increase your daily goal to twice a day. The same goes for nutrition goals -- you don't need to eat the perfect diet just because you have diabetes. Be realistic. Make the goal about "eating more vegetables" instead of something restrictive like "don't eat bread!"

Understand the difference between "burnout" and "depression." If your burnout is starting to impact other parts of your life beyond diabetes management and is going on for months and months, it's probably time to talk to a mental health professional like a therapist. Diabetes that comes with depression and/or anxiety is all too common. And rightly so considering the amount of pressure and stress and expectation we endure every day. When burnout is actually depression, it's time to get more support.

Give yourself a little more credit! Dang -- diabetes management is no joke! The mainstream media might not know this but you and I do. Every meal. Every outing. Every activity. Every night when you go to sleep. Every time you drive your car. Every exam during high school and college. Every soccer practice. Every presentation or meeting at work. Every holiday! Every single day -- all day long. Diabetes impacts every bit of our life and every decision we make. Give yourself a little more credit for simply showing up for another day.
Learn more managing burnout in Ginger's book, Dealing with Diabetes Burnout.