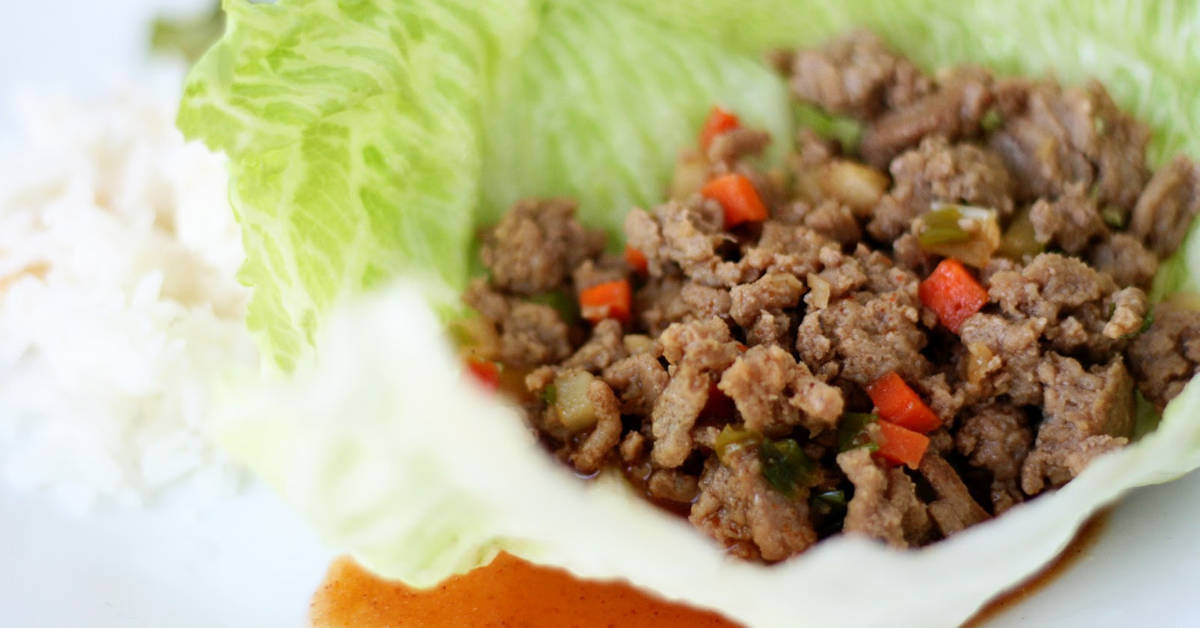 ---
You'd think that lettuce wraps would be one of the healthiest options on the menu. But you might be surprised by how much fat and carbohydrate is packed into just one. Nikki Sheriff decided to make a lower-fat, lower-carb version. Try them out at home!  
---
Ever had the lettuce wraps at PF Changs?
YUM.
Well, I came up with a diabetes-friendly version. And they are extra YUM! Even my hubby who doesn't care much for lettuce wraps at PF Changs, or anywhere else, loved them. He eats more than me when we have these. 
The Sauce
Ingredients
Makes 1 cup of sauce
1/2 cup water
2 TBL Splenda brown sugar
2 TBL soy sauce
2 TBL All Natural Rice Wine Vinegar
1 TBL 100% lemon juice
2 TBL ketchup
1 TBL olive oil
1/4 tsp. dry mustard
1/4 tsp. chile powder
1/4 tsp. garlic powder
Directions
Whisk all ingredients together and store in the fridge until you are ready to serve. 
For 1 tablespoon of special sauce: 18 calories, 1g fat, 2g carbs, 0g protein
The Mix
Ingredients
Makes about 10 lettuce wraps (with about 1/4 cup of meat for each)
1 1/4 lbs. of lean ground turkey
1 can water chestnuts
1/2 cup of chopped carrots
1/4 cup of chopped green onions
2 cloves finely chopped garlic
3 TBL olive oil
2 TBL Splenda brown sugar
2 TBL soy sauce
1 tsp. All Natural Rice Wine Vinegar
Directions
Finely dice water chestnuts, carrots, green onions and garlic. 
Heat oil in a large skillet or wok over medium heat. 
Cook ground turkey. When nicely browned, add water chestnuts, carrots, green onions and garlic. 
In a small bowl, mix Splenda brown sugar, soy sauce and rice vinegar. Then pour into the meat mixture and stir until the juice is bubbling. 
Cover and reduce heat to low, stirring every few minutes until the carrots are tender. 
Drain most of the juice in the meat. (Leave in a little so it doesn't dry out)
For 1/10 the meat recipe (about 1/4 cup): 106 calories, 6.5g fat, 4g carbs, 10g protein
Serve on large leaves of ice burg lettuce, butter lettuce or romaine lettuce with the sauce poured over (give the sauce a stir before pouring it over the lettuce wraps), or just dunk the wraps in as you eat.
I love to make these as a main dish with some stir fry and white rice, but they're also great for appetizers, a yummy lunch, or a side dish.
Enjoy!