Chef Robert Lewis from The Happy Diabetic has a delicious chicken dish that your family will love. With only 19g of carbohydrates, it is a great meal for most people with diabetes.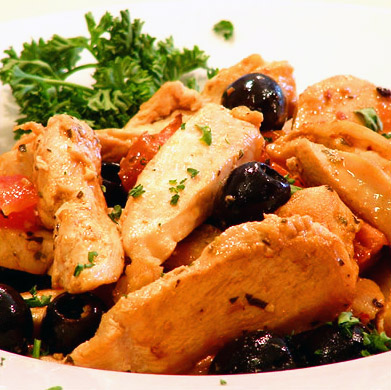 Ingredients
2 teaspoons extra virgin olive oil
¼ cup white wine
1 pound skinless, boneless chicken breast halves, sliced
2 cloves of garlic
3 roma tomatoes, diced
2 tablespoons chopped fresh basil
1 tablespoon rosemary
1 tablespoon oregano
10 pitted kalamata or black pitted olives
¼ cup chopped fresh parsley
salt and pepper to taste
Instructions 
Heat oil in a large skillet over medium heat. Add sliced chicken and sauté about 4 to 6 minutes, until golden. 
Remove chicken from skillet and set aside. Sauté garlic in pan drippings for 30 seconds, then add tomatoes and sauté for 3 minutes. 
Lower heat, add white wine and simmer for about 5 minutes. 
Add oregano, rosemary, and basil, and simmer for 2 to 3 more minutes. 
Return chicken to skillet and cover. Cook over low heat until chicken is cooked through and no longer pink inside. 
Add olives and parsley to the skillet and cook for 1 minute. Season with salt and pepper to taste, and serve. 
This dish pairs perfectly with Chef Robert's Roasted Asparagus which you can find here.
Nutrition Information    
Serves: 4 
Calories: 196, Fat: 8g, Carbohydrates: 19g, Fiber: 0.16g, Protein: 3g 
---
For more great recipes from Chef Robert, you can find him at www.happydiabetic.com, on his Youtube channel here, or you can subscribe to his podcast here.