Our friend Chef Robert Lewis from The Happy Diabetic has a delicious seafood dish that your family will love.  It is low in carbs and very nutritious which makes it a perfect meal for people with diabetes.
Shrimp and tomatoes make a deliciously wonderful pair!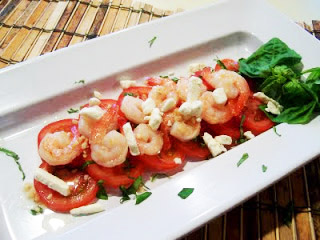 Ingredients
1 lb Roma tomatoes; (2-3 tomatoes)
2 oz Feta cheese
4-5 sprigs of basil; fresh
4 T. virgin olive oil
Dash cracked pepper
1 lb large fresh shrimp, raw, deveined
1 tsp olive oil
1 clove garlic, minced
1/4 tsp freshly ground black pepper 1 fresh lime
Directions 
Wash and slice tomatoes crosswise into 1/2-inch-thick slices, 4-5 slices per tomato. Arrange 2-3 slices on each salad plate. 
Sprinkle the blue cheese on top each tomato. 
Cut fresh basil leaves into strips and top each tomato with basil. 
Drizzle olive oil over the tops and add a dash of pepper. 
Shrimp preparation 
Combine the juice of the lime, oil, garlic, and pepper in a large bowl. Add shrimp and toss lightly to coat. 
Heat the grill. Place the shrimp on the grill and cook for approximately 3-4 minutes. Turn the shrimp. 
Place the shrimp on top of the tomato, basil, and Feta cheese. 
Enjoy! 
---
For more great recipes from Chef Robert, you can find him at www.happydiabetic.com, on his Youtube channel here, or you can subscribe to his podcast here.