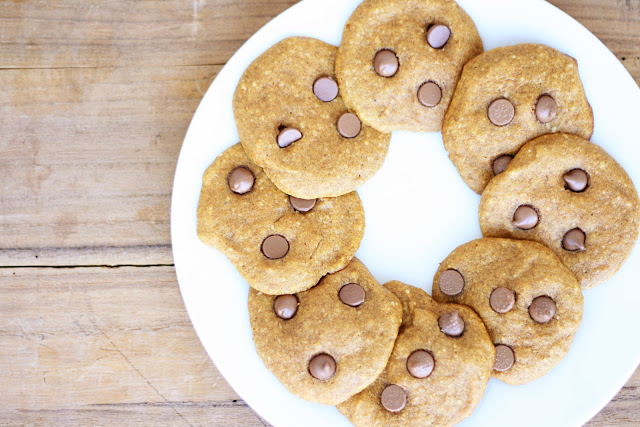 ---
Cookies are sugar bombs. But, if you replace regular sugar with alternative sweeteners and replace some of the white flour with almond flour, you reduce carbohydrates and make them a bit easier on blood sugar. Try Nikki's Pumpkin Chocolate Chip cookies! 
---
We're BIG pumpkin-lovers at my house. Pumpkin pie, pumpkin bread, pumpkin ice cream, just to name a few. Of course, all those things that I normally make containing pumpkin are packed with sugar and are now on the "no-no" list...
Or are they?...
Pumpkin Chocolate Chip cookies...They're on my "yes, please!" list. My goal for making these was to not make them "these are good--for a low-carb cookie", kind of cookies. I wanted to make some that were "these are gooooood." Period. And guess what? THESE ARE GOOOOOOOD! PERIOD!!!
They are more cake-like, which is how I like my pumpkin cookies. They're super moist, super sweet, and super crave-worthy. And best of all, they're extremely low in the carbohydrates and fat.
Here's how to make them.
To make 24 cookies
Ingredients:
1/2 cup 100% pumpkin puree

4 TBL Splenda brown sugar

1/4 cup vegetable oil

1 egg

1/2 tsp. pure vanilla extract

3/4 cup all-purpose flour

1/4 cup almond meal/flour

1/2 tsp. baking soda

1/4 tsp. salt

1 1/4 tsp. pumpkin pie spice

3 TBL milk chocolate chips
Directions: 
Preheat the over to 350°F.

Beat the pumpkin, brown sugar, oil, egg and vanilla until well mixed.

In a separate bowl, whisk together the flours, baking soda, salt and pumpkin pie spice. Pour into the pumpkin mixture and mix well. 
Add the chocolate chips and stir in. Or, you can be more specific, like me, and measure out the chocolate chips before, and place them onto each cookie after the batter is measured out onto the cookie sheets.

Using a cookie scoop, drop leveled out dollops onto a greased cookie sheet (I like to use baking spray). I use a butter knife to level out the scoops, and then after I have 12 on the cookie sheet, I use the knife to spread the cookies out so they'll be more round and the size of a normal cookie instead of a small puff of a cookie. They may look like they'll be small, but they puff up to a good size.

Bake for 10-12 minutes (10 minutes was perfect for my oven) depending to your oven. You don't need to wait until they get really golden. They'll be very soft to the touch, but once the cookies cool they'll be perfect. 
Let them cool on the cookie sheet for a minute and then transfer them to a cooling rack to cool. Repeat with the remaining batter, being sure to spray the cookie sheet again before. And just FYI, you'll really have to scrape the bowl to get that 24th cookie.
Nutritional Info:
For 1 cookie: 63 calories, 3.5g fat, 6.5g carbs, 1g protein
Don't put off trying these. You'll LOVE them!!!