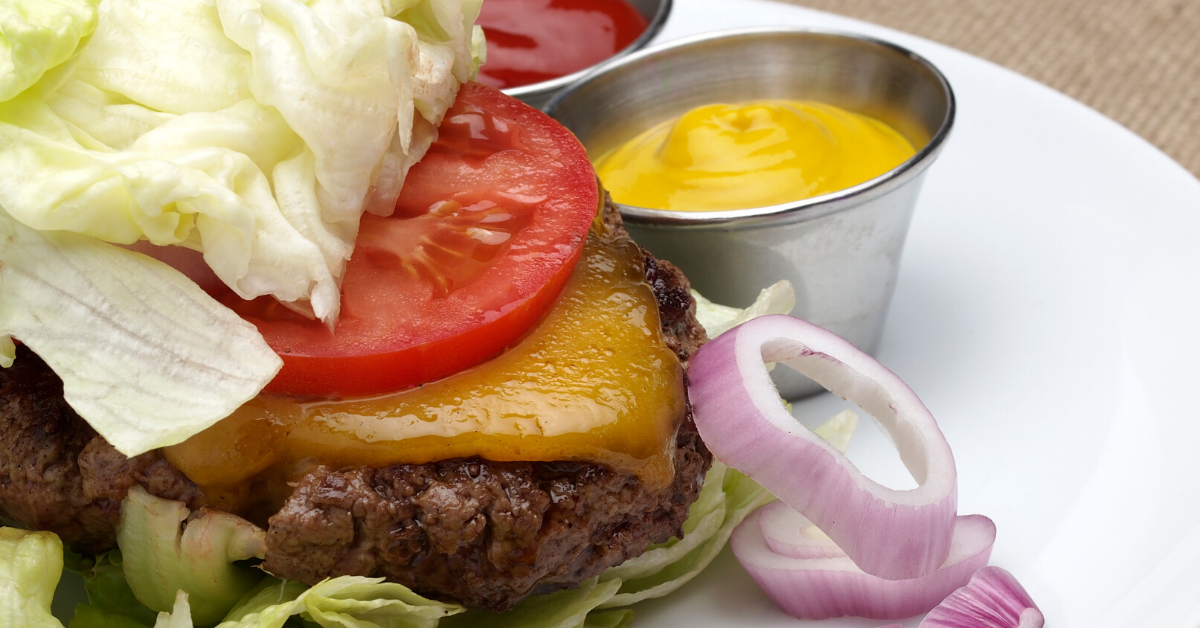 ---
Hamburgers may well be the most popular grill meal. But there's a difference between a burger and a BURGER! Here's a BURGER for you to try! 
---
Hamburgers.
The good thing is they are generally very low-carb and high-protein. And they are so versatile. You can stack them however you want with full control over the carbohydrates you add. If you have some room in your daily eating plan for some carbohydrates you can use a delicious bun and some regular sauces. Or, if you are looking for lower carb, try adding some sugar-free sauces, tomato, onion, and whatever else you like, and wrap it up in some nice, crisp lettuce leaves. 
Here's how to make the patties.
Ingredients
This recipe is for 3 patties. Adjust the below measurements to make more.
1 pound of ground beef (using leaner beef will keep total fat lower and keep your burgers from shrinking)
1 TBSP Worcestershire sauce
1 tsp garlic powder
Salt and pepper 
Directions
If you prepare your hamburger patties ahead of time and allow them to chill in the refrigerator they will hold together better on the grill. 
Mix your beef lightly with Worcestershire sauce and garlic powder. Shape the mixture into 3 patties, flattened to the thickness you prefer. Make sure the width is such that will leave some room for shrinking without losing bun coverage. Refrigerate for a half hour or more.
When it's grill time, preheat your grill. The best temperature target is 400°F. 
When you reach the right temperature, remove the patties from the fridge. Brush the patties with olive oil and sprinkle with salt and pepper to your taste preferences. To help prevent shrinking, press your thumb or a tablespoon lightly into the center of the patties. 
Place the hamburger patties on the grill. Keep the lid open if you can, but be careful of flare-ups and winds that may blow debris onto the burgers.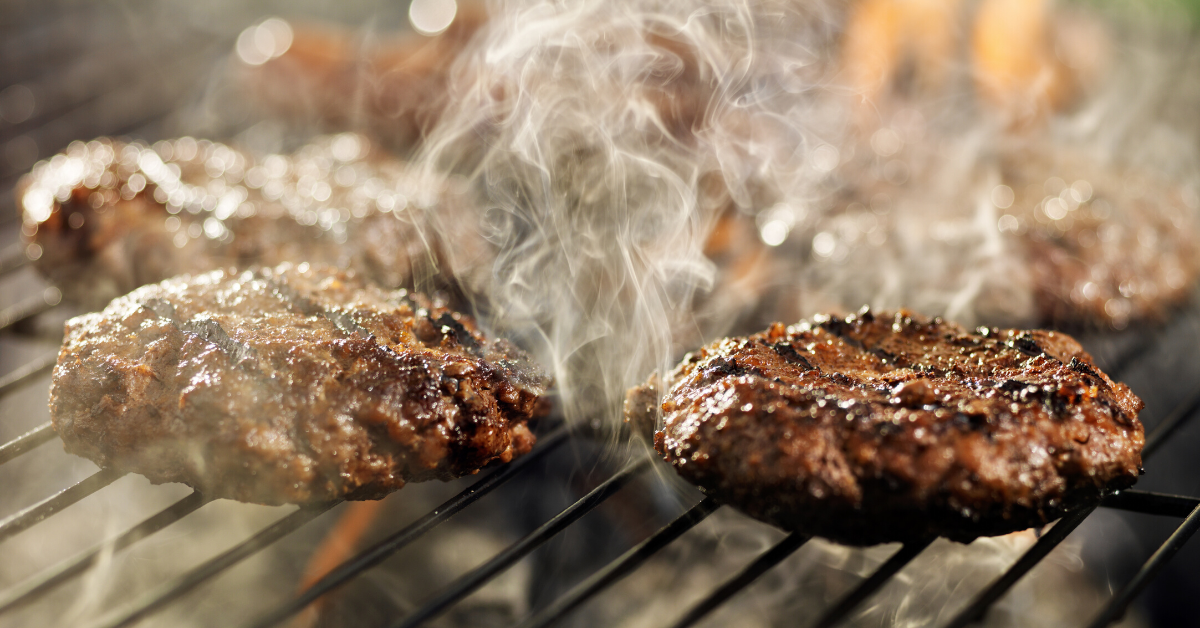 For best results, avoid pressing the burgers to keep all the flavorful juices inside.
Cook for 2 minutes on the first side and then flip only once to finish cooking on the other side. 
How well done do you like your burgers? Here's a quick guide:
Rare: 4 minutes total (2 on the first side, 2 after the flip)
Medium-rare: 6 minutes (2 on the first side, 4 after the flip)
Medium: 8 minutes (3 on the first side, 5 after the flip)
Well: if you like burnt burgers, keep in on for a couple of extra minutes. ?
Remove the cooked hamburgers from the grill and let them sit for just a minute. 
Dressing Up Your Burger!
Let's make it even better! There are lots of ways to dress up a burger these days. Here are some of our favorite ideas:
Tried and true ideas - Things like cheese and condiments are always a favorite for burgers. When adding these types of foods to your burger, you should keep an eye on a few things.
Salt. A little salt is fine, but many people over-do their salt consumption, especially when it comes to all-American classics like burgers, hot dogs, and the chips and french fries that go with them. The Centers for Disease Control and Prevention recommends3.4 grams of salt a day, and the American Heart Association recommends about 1.5 grams. When you consider that a burger and fries combo is almost a gram of sodium alone, you can see where a lot of salt can start to cause problems.

→ So, why should you care? Although salt doesn't affect blood glucose levels, too much salt can increase blood pressure, and people living with diabetes are already susceptible to high blood pressure. Knowing this, you want to make sure that managing salt intake is part of your diabetes care plan. Check your labels for bread and cheese because these items can have added salt.

Sugar. Believe it or not, many condiments, like ketchup, have added sugar. There are low- to no-sugar options available if you want to avoid hidden sugars so you don't have to avoid yummy condiments.
Bread of course - As mentioned, if you have room for some carbohydrates in your diabetes management plan, go ahead and add a healthy bun to your burger. As always, read the labels to find the best bun for you because bread can also have hidden sugar and salt. Look for buns that contain fiber and whole grains.
Condiments - Although condiments can have hidden sugar and salt, there are good options available that have less sugar and salt. Just read the labels to make sure you know what you are getting with condiments! Here's a fantastic homemade barbecue sauce you might enjoy that will keep the total carbohydrates down. Enjoy!
Don't forget lettuce, onions, tomato, mushrooms, avocado, and other veggies - The great thing about these burger additions is you don't have to read labels! You can lightly grill onions and/or mushrooms in olive oil for added flavor or add them raw. Tomatoes, lettuce, avocado and other veggies are always a refreshing, light and tasty addition that is quick and easy.
Salsa - Have you tried salsa on burgers? Salsa adds zip and spice to any burger. Homemade salsa with your favorite ingredients (peppers, tomato, onion, lime, garlic, mango, etc.) can ensure you are managing salt and sugar intake. Many grocery stores also have fresh salsa in the produce section that does not include any additives. If buying salsa, stick to your tried-and-true label reading! Salsa doesn't have to be hot or spicy, it just has to taste good to you.
Be creative - Many gourmet burger restaurants are adding all kinds of things to their burgers. How about eggs? Low salt/sugar relish is also an option. Really, any choice that fits within your diabetes management plan is an option!