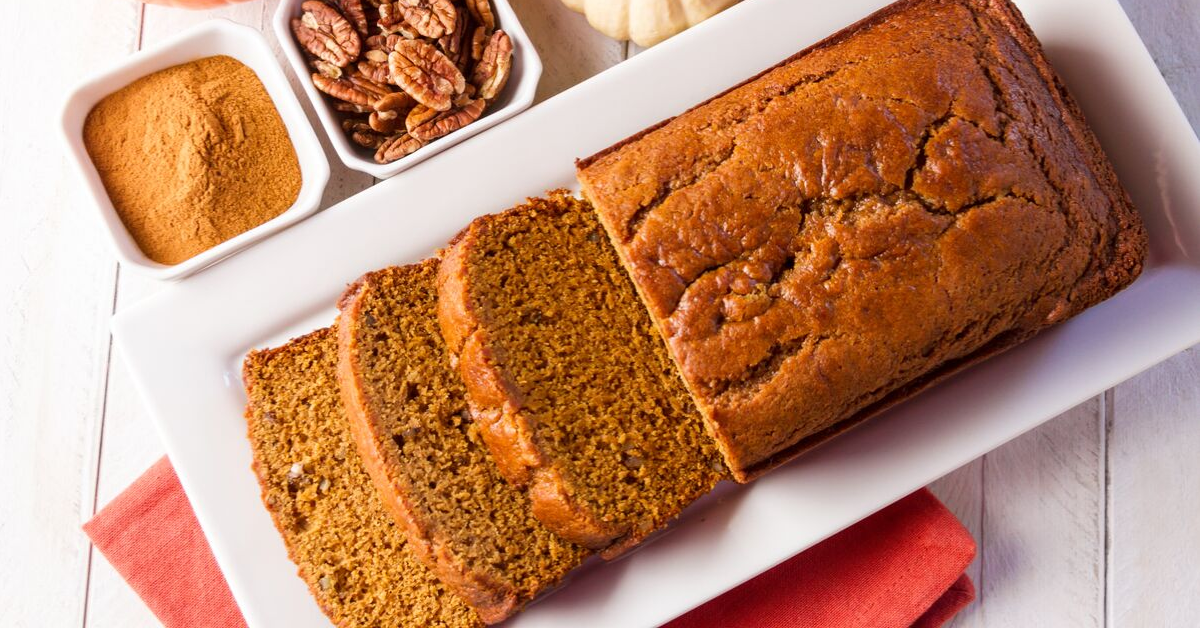 ---
Fall is here, and pumpkin season with it. Here's a crowd-pleaser you can make a little different to keep blood sugar well managed! Try this low-carb pumpkin bread recipe. 
---
Pumpkin bread is so good that it can be hard to stop at one slice. With a traditional pumpkin bread recipe, that's a lot of carbohydrates to manage, especially if you live with diabetes. But, there is a good way to reduce carbohydrates and blood sugar impact. Try this one out and see if it stacks up to the recipe you're used to.
Ingredients:
7.5 oz pumpkin puree (half of a 15oz can)
4 large eggs    
1 cup sugar substitute (Splenda works great)
1/4 cup unsalted butter    
1 teaspoon vanilla extract
1½ tsp baking powder    
2 tsp ground cinnamon 
1/4 tsp sea salt
1½ cups almond flour
½ cup flax meal
1 TBSP ground chia seeds
¼ tsp ground cloves    
1½ tsp ground ginger     
½ tsp ground nutmeg    
¼ cup chopped pecans
Important prep notes:
Take the eggs and butter out of the fridge a couple of hours ahead of time so they can warm to room temperature. 
Re-grind your flax meal to make sure it is very finely ground (this can be done in a blender). 
Lightly whisk the eggs in a bowl until well mixed. 
Add all the dry ingredients together in a bowl and mix. This way you can be ready to just pour in the dry ingredients together rather than one at a time.
Directions:
Preheat oven to 350°F.
Grease an 8x5" loaf pan (or, use parchment paper to prevent sticking).
Blend the pumpkin puree, sugar substitute, melted butter and vanilla with an electric mixer.
Add in the eggs and beat until fully mixed.
Add the dry ingredients to the wet mix.
Pour the batter into the loaf pan. 
Bake for 35 minutes. Use a toothpick to make sure it is cooked through (insert into the middle and see if it comes out clean).
When it is cooled through, remove from the oven and let the pumpkin bread sit for 20 minutes before removing from the pan. 
Loaves can be refrigerated up to 5 days or frozen for 3 weeks. If you slice the loaf into 12 pieces (1 serving per slice) you'll have about 3 net carbs per serving! Here's how the nutritional information breaks down: