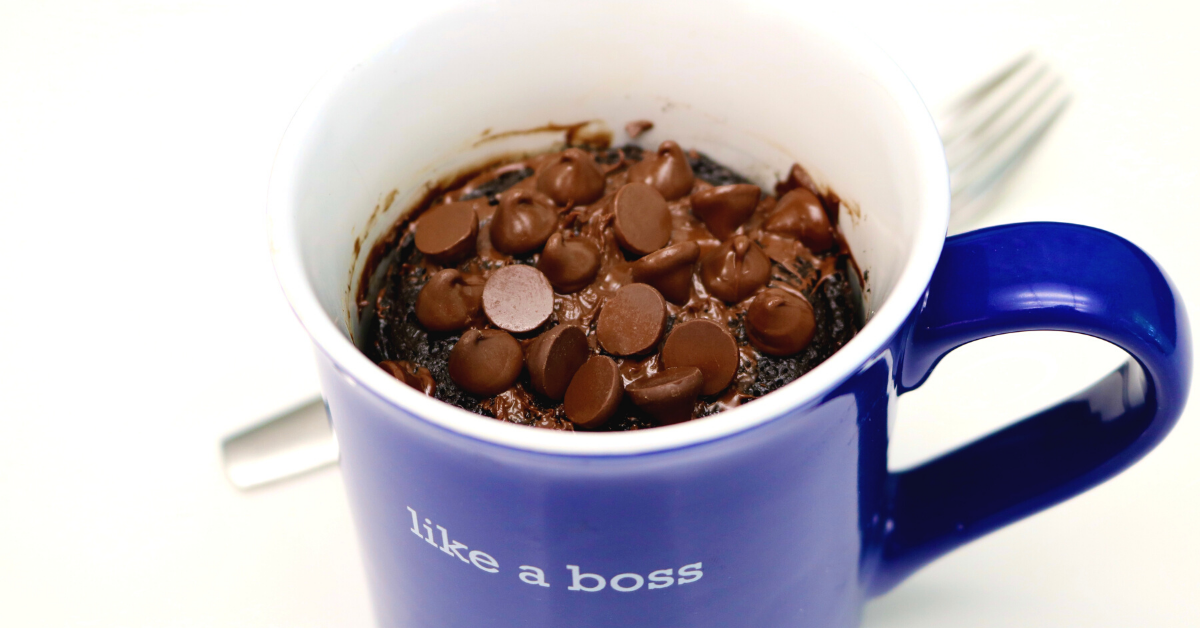 ---
Here's a simple, low-carb dessert that takes just minutes to make. 
---
Chocolate cake is one of the most beloved desserts in America. It is rich, delicious, and even comforting. But, it's usually carb-heavy as well, and requires several steps to make. Let's turn that around. 
You can make a simple chocolate cake with a coffee mug, a microwave, and a few simple ingredients. You probably have most of them in your cupboard right now. And the ones you don't have can be easily found in a grocery store. So, gather these ingredients and try making this simple, low-carb chocolate mug cake. Here's how to do it.
Ingredients
2 TBSP butter
1/4 cup almond flour
2 TBSP cocoa powder
1 large egg
2 TBSP semi-sweet chocolate chips
2 TBSP low-calorie sweetener (Swerve, Truvia, Spelda, or whatever you prefer)
1/2 tsp baking powder
a pinch of salt
Directions
Put the butter in your mug and melt in the microwave for about 30 seconds. While it is melting, beat the egg. 
Add all the remaining ingredients and stir to mix completely. Don't worry about the chocolate chips, they will melt in the microwave.
Cook the mixture in the microwave for up to 1 minute. You may only need 45 seconds, so watch it and pull out when the cake is set but still fudgy.
Top with some extra chocolate chips. Let them melt and spread around, or just enjoy them while they begin melting. Enjoy! 
Why a low-carb chocolate mug cake? 
We made this recipe "low-carb" to help people who watch carbohydrate intake while living with diabetes. Our bodies turn carbs into glucose, which can raise your blood sugar levels—which you probably already know. Glucose is actually the most basic form of carbohydrate, so cutting back on carbs can help reduce or manage your blood sugar. It's easy to make some of your favorite recipes low-carb and diabetes-friendly, helping you manage your glucose levels while satisfying your sweet tooth. 
Like we mentioned above, dark chocolate may even benefit your health. In addition to high antioxidant levels, dark chocolate is packed with flavonoids. Flavonoids are chemicals that might help reduce insulin resistance. Of course, dark chocolate isn't a treatment for diabetes or any other medical condition. You should still follow your treatment plan and stick to enjoying dark chocolate in moderation. Still, it's nice to know that the flavonoids and antioxidants in one of your favorite treats can help fight free radical damage and oxidation. Flavonoids are also in some grains, veggies, and fruits, so there are many ways to sneak this beneficial chemical into your diabetes management plan.
Remember, all chocolate is different. Dark chocolate has benefits that milk and white chocolate don't, and each chocolate-y recipe will include unique amounts of carbs and added sugars. White chocolate technically isn't even real chocolate! 
Always read the ingredients before picking up a pre-made chocolate snack to make sure you're not eating something with a tiny bit of dark chocolate and a bunch of harmful added ingredients. By making chocolate desserts at home like this low-carb chocolate mug cake, you can ensure that you're indulging in a delicious treat that aligns with your diabetes management plan.
If you're wondering how to pick the best baking chocolate and cocoa for your diabetes management plan, we have some helpful tips:
Always read the label. The percentage of cocoa in a product matters. Companies can claim their chocolate is "dark chocolate" while only including a meager amount of cocoa. Some packaged "dark" chocolate includes as little as 30 percent cocoa, which is basically the amount you'll find in milk chocolate products. Look for chocolate that uses 70 percent cocoa or more.  

Seriously, always read the label. We don't want to repeat ourselves, but while you're looking at your chocolate's cocoa content, take a peek at its carbs. Even unsweetened chocolate includes carbohydrates; it's unavoidable. Just make sure the amount of carbs in your chocolate aligns with your diabetes management plan's daily recommended value. 
Check The Sugar Content. You should always try to buy sugar-free cocoa powder, especially since it's not hard to find. Semi-sweet chocolates can be OK occasionally, but it may be better to find alternative sweeteners for your recipes instead of buying sugary chocolate bars. Are artificial sweeteners safe to use? Click for some history and perspective.