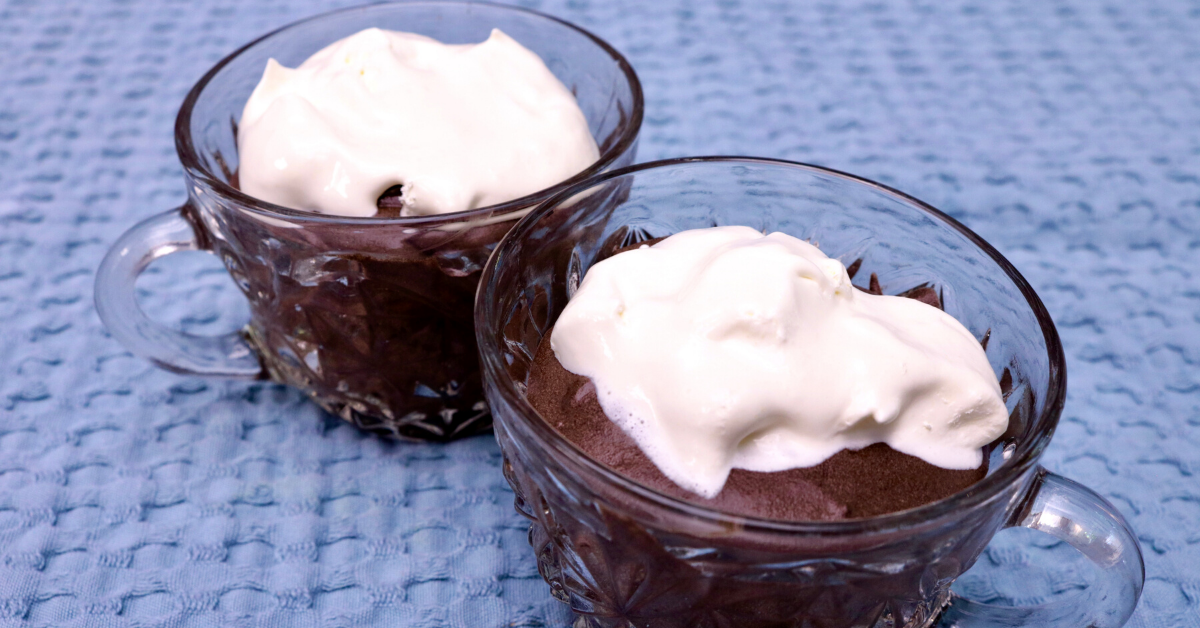 ---
Dessert with fewer carbs and lots of flavor. What could be better? Here's a rich and simple dessert that's ready in 5 minutes. 
---
For some people, chocolate is one of the best things in life. The good news is, even if you are living with diabetes, you can still eat chocolatey desserts as part of a healthy diet. 
Living with diabetes doesn't mean you can't enjoy the foods you love. That includes chocolate. 
The key is to consume these kinds of foods in moderation and be consistent with your diabetes management plan. There are lots of recipes that you can try that fit within your plan that include chocolate as a sweet treat that doesn't spike your sugar. 
Mousse is rich, sweet, savory, soft and airy. It's whipped to a perfect texture with any flavors you wish to add. This one will be a dark chocolate mousse. Try adding coffee, caramel, or fruits if you want. It's ready in minutes to be enjoyed. Here's how to get started.
Ingredients
To make 2 servings:
3oz cream cheese softened
1/2 cup heavy cream
1 tsp vanilla extract
2 TBSP cocoa powder
1/4 cup no-calorie powdered sweetener *(stevia, sucralose, or others)
a pinch of salt
When choosing a sweetener, think about how sweet you want your mousse to taste. Using a generic stevia sweetener will result in a more bitter flavor, which is great if you love bitter dark chocolate. But, if you prefer a sweeter dessert, go for the sucralose. There are others you can try out as well. Here's more information about the types and safety of alternative and artificial sweeteners.
Directions
First, soften your cream cheese. To do this, unwrap the portion you want to use (in this case, 3oz) and microwave it in a bowl for 15 seconds. If the cream cheese is still too stiff, heat another 15 seconds. 
Make sure your sweetener is powdered. You can turn regular granulated sweetener into a powdered consistency by pulsing in a food processor for a few seconds. A good powdered consistency will help the mousse achieve its airy-ness.
Now you're ready to put it all together!
In a bowl, beat the cream cheese in with an electric mixer until it looks fluffy. Pour in the heavy cream and vanilla. Continue beating it together with the mixer. Once it looks even and smooth, add cocoa powder, sweetener, and a pinch of salt (don't add too much!). Beat on high for a couple of minutes until the mousse is airy and fluffy. 
To serve, divide into 2 small dishes and top with a dollop of whipped cream. 
Nutritional Information
Total Fat: 26.5g
Cholesterol: 88mg
Sodium: 216mg
Carbohydrates: 5g
Protein: 5g
Vitamin D: 78% recommended daily value (DV)
Calcium: 5% DV
Iron: 8% DV
Potassium: 5% DV 
Want to add additional flavor to your chocolate mousse? Think about things you like to eat with chocolate, like fresh strawberries or cherries, and add these fruits to your treat to make it even more delicious.  
Why is this recipe "low-carb" and why is that important for people living with diabetes? Carbohydrates are important to monitor when you are living with diabetes because your body breaks carbohydrates into sugar (glucose) — in other words, too many carbs can mean high insulin levels, and reducing carbohydrate intake helps reduce blood sugar levels.
Did you know that chocolate, especially dark chocolate, has potential health benefits? Dark chocolate includes chemicals called flavonoids that might help reduce inflammation and insulin resistance. Other benefits of the nutrients in dark chocolate include reduced risk of heart disease, high blood pressure, and some cancers. 
That doesn't mean that chocolate is the secret answer to diabetes — it definitely isn't. However, nutrients like flavonoids have anti-inflammatory effects that can protect your cells from oxidation damage (think free radicals) and your dessert suddenly isn't all bad and no good.
Not all chocolate is the same, either. Milk and white chocolate don't have the same benefits as dark chocolate. In fact, white chocolate isn't chocolate at all. There are also lots of chocolate "flavored" foods that have only a little bit of chocolate and a lot of other ingredients, or sometimes just artificial chocolate flavor. But you can have a delicious chocolate treat that fits within your diabetes management plan if you choose options like this delicious low-carb chocolate mousse!
3 things to consider for choosing the best chocolate/cocoa for someone living with diabetes
Check the label for the percentage of cocoa. Even though the package may say "dark chocolate" or "dark cocoa," the percentage of cocoa may be as low as 30 percent, which is similar to the percentage in milk chocolate. You want to buy chocolate with 70 percent or more cocoa.
All chocolate, including unsweetened chocolate, has carbohydrates. Again, just check the label so you know what you are buying and you can plan for it if and when you need to calculate carbs in your meal.
Sugar Content. Of course, watch the sugar content in chocolate or cocoa you purchase. Sugar-free cocoa powder is the best option. As with this recipe, you can add an alternative sweetener.