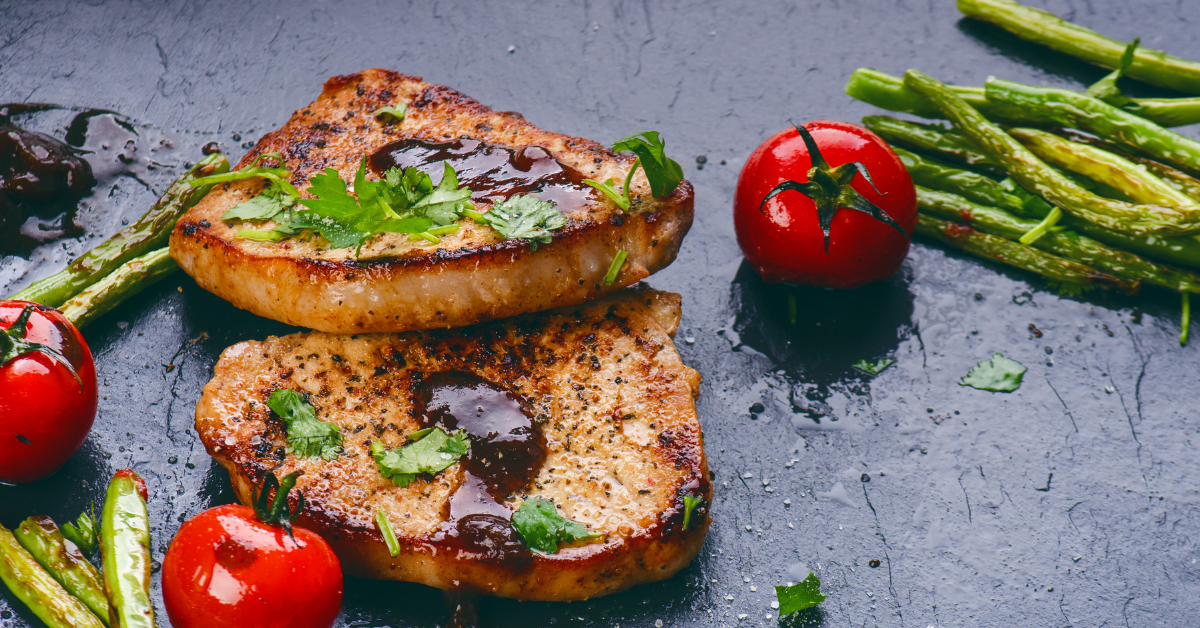 These savory pork chops pair perfectly with a cookout. Try this low-carb recipe this week!
Meats tend to be popular among people trying to manage weight or blood sugar because they are very low-carb foods. They are also high in protein which is an essential nutrient and a great fuel source for our bodies! Meat seems to be most popular during holiday cookouts and summer gatherings. 
If you're a meat-eater who's looking for something new to try this week, here's a perfect recipe to start with!  
Ingredients
2 tablespoons balsamic vinegar
2 tablespoons reduced-sodium soy sauce
1 teaspoon Dijon mustard
2 teaspoons Truvia (or preferred sugar substitute)
1/4 teaspoon red pepper flakes
2 boneless 8oz. pork chops
Salt and Pepper
Directions
Combine vinegar, soy sauce, mustard, sugar, and red pepper flakes in a bowl and stir until blended well. Set aside 1 tablespoon of the marinade and refrigerate.
Place raw pork chops in a resealable bag. Pour the bowl of marinade into the bag with the pork. Seal the bag and turn to coat the pork. Refrigerate in the bag for 2 hours, or up to 24 hours.
Spray your grill pan with nonstick cooking spray and heat over medium-high. 
Remove pork from the bag and discard leftover marinade. Cook the pork chops for 4 minutes on each side. The meat should be just slightly pink in the center. Cook an additional minute on each side if needed.
Place pork chops on plates and top with reserved 1 tablespoon marinade. Salt and pepper to taste.
Serve with fresh grilled veggies to keep with a low-carb meal, or with potatoes or corn to add some healthy carbs. Enjoy!