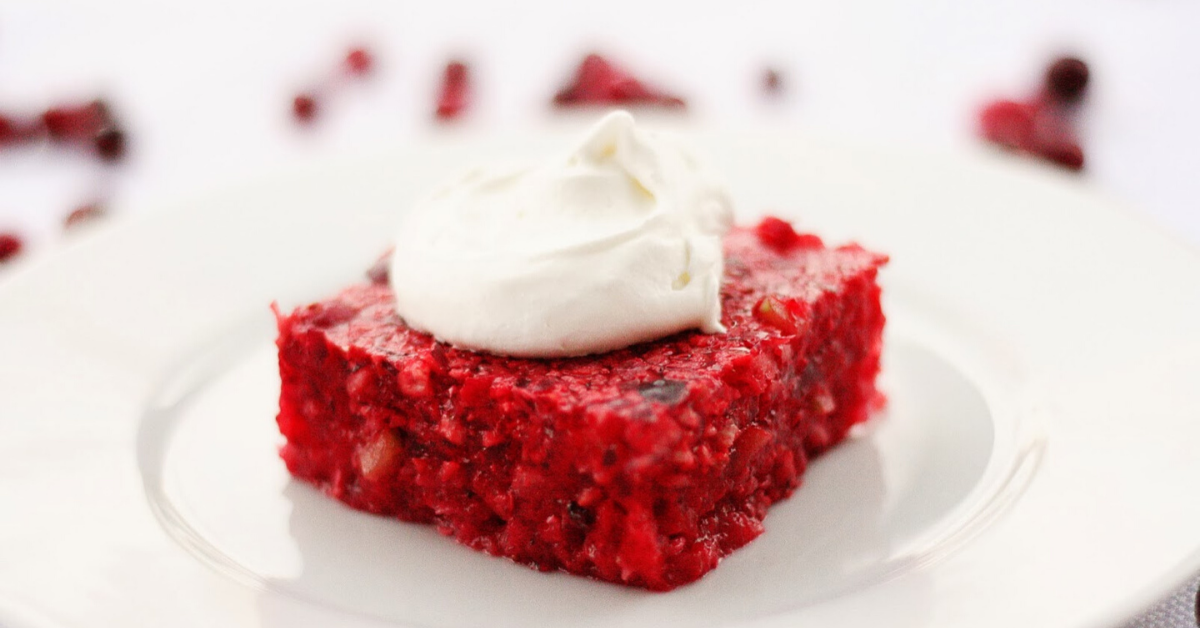 ---
A family-favorite side dish for Thanksgiving dinner, from Nikki Sheriff. 
---
This fresh cranberry salad recipe is a tradition at my family's Thanksgiving table. It's a side dish recipe my great grandmother used to make every year, and the tradition continued in my family. And now it's an absolute must!
I've altered this side-dish recipe to be more diabetes-friendly, but it tastes just like the original and is still just as loved by me. Seriously, I could eat the whole pan for dessert, that's how much I love it.
The thing that may strike you as strange in this recipe is the celery. Don't let that scare you away! The celery combined with the pineapple and fresh cranberries is crunchy, so refreshing and delicious. The flavor is absolutely amazing. Give it a try! 
Ingredients
Makes 9 servings.
1 large package sugar-free raspberry jello
2 cups boiling water
1 cup cold water
1 cup fresh whole cranberries
1/2 cup pecan pieces
1/2 cup canned crushed pineapple in 100% pineapple juice, undrained
1/3 cup chopped celery
1 tsp light sugar (sugar/stevia blend)
1 cup plus 1 TBSP light whipped topping 
Directions
Dissolve gelatin in boiling water. When dissolved, add the cold water. 
Pour in an 8x8 baking dish and place in the refrigerator to start setting.
In a food processor, blend the cranberries, pecans, celery and sweetener into small chunks. Measure out 1/2 cup of the pineapple with juice and mix it into the cranberry mixture.
When jello is slightly set, stir in the cranberry mixture and refrigerate 4 to 6 hours until firm.
When ready to serve, cut into 9 squares and top each with 2 TBS light whipped topping.