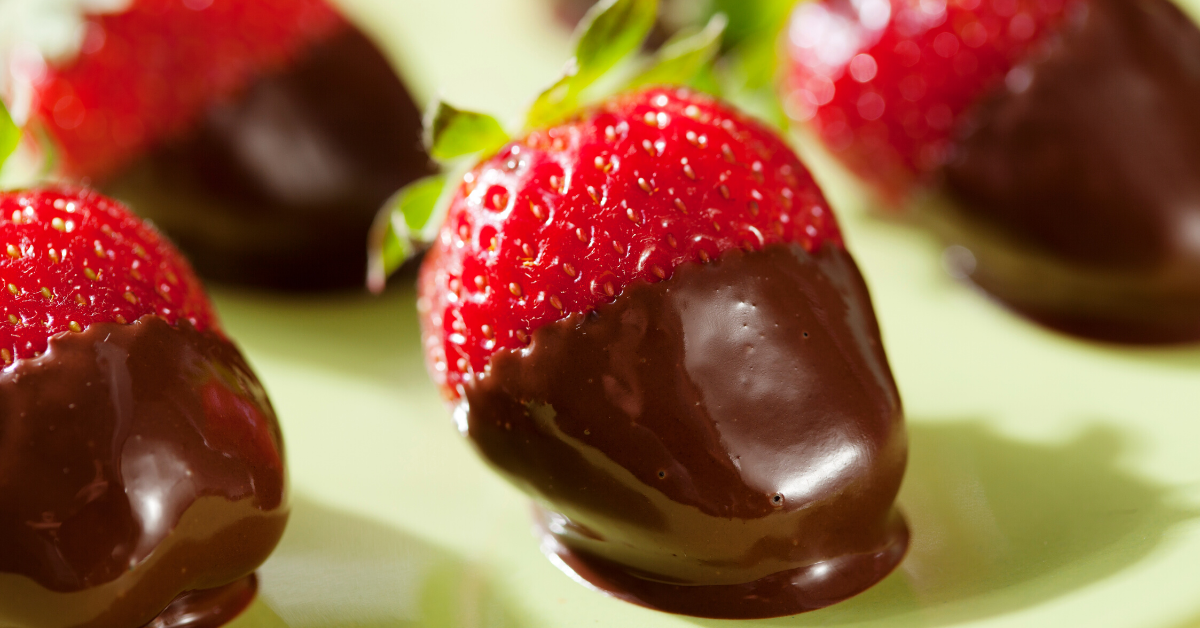 ---
A perfect treat: Chocolate-dipped foods! Here's how to make your own at home. 
---
Do you love chocolate? Me too. Chocolate is one of the best things in life!
I especially love low-sugar, chocolate-dipped. Whether it's for a snack, treat or dessert, chocolate-dipped foods always satisfy.
Foods covered in chocolate are a popular choice for so many occasions. Valentine's Day, anniversaries, and so many holidays, chocolate-covered foods are part of the celebration. 
If you want chocolate-dipped strawberries, nuts, pretzels, etc., you'll find yourself paying high prices at the grocery store. So, here's your solution. Make it all at home! It's so easy, and you can try anything you want. Here's how simple it is.
Ingredients
1/2 cup chocolate chips (sweetened, semi-sweet, or as dark chocolate as you like)
Optional: Granulated sweetener (turbinado sugar is usually used for those thick crystal chunks of sweetener, but you can use low-calorie options instead)
Food to dip! Time to get creative. Here are some ideas:

pecans
strawberries
pretzels
banana slices
clementines
cookies (you can make low-carb cookies to reduce the blood sugar spike)
what are we missing? That goes on this list, too!
Directions
Prepare a baking sheet with parchment paper. 
Microwave the chocolate chips in a small, microwave-safe bowl for 30 seconds, and an additional 15 seconds between stirring until the chocolate is fully melted and smooth. 
Dip each piece of the foods you chose in the chocolate half-way. Before the chocolate cools sprinkle the sweetener lightly until the desired amount sticks to the chocolate.
Pretty simple! Try it out with different foods and enjoy! Remember to keep an eye on portions, especially with higher-carb foods. To keep carbohydrates low, start with pecans. 
The great thing about "chocolate covered everything" is that you decide what to dip in chocolate. I provided list of ideas, but really you can customize this recipe to what you like best.
Did you know that chocolate, especially dark chocolate, has potential health benefits?
Dark chocolate includes chemicals called flavonoids that might help reduce inflammation and insulin resistance. Cocoa powder and baker's chocolate have more flavonoids than dark chocolate; dark chocolate has more than milk chocolate, and white chocolate has none. Dark chocolate also includes polyphenols (naturally occurring antioxidants) which may improve insulin sensitivity.
Other benefits of the nutrients in dark chocolate include reduced risk of heart disease, high blood pressure, and some cancers. 
But, we're sad to say that doesn't mean that chocolate is the answer to diabetes or any other medical condition (we wish). 
However, there are nutrients found in chocolate that can genuinely support health — flavonoids, for example, have anti-inflammatory effects that can protect your cells from oxidative damage (think free radicals). Flavonoids are not only found in chocolate, but also are found in fruits, vegetables, and grains.
Not all chocolate is the same, though.
Milk and white chocolate don't have the same benefits as dark chocolate. In fact, white chocolate isn't technically "chocolate" at all. There are also lots of chocolate-flavored foods that have only a little bit of chocolate and a lot of other ingredients. 
Choosing the best chocolate and cocoa as someone living with diabetes
Even if you are living with diabetes, you can eat chocolatey desserts as a treat when included as part of a healthy diet. When you live with diabetes, you need to be more aware of what you eat and drink compared to people who do not live with it. It's about finding balance, and that includes with chocolate. 
The key is to consume these kinds of foods in moderation and be consistent with your diabetes care plan. There are lots of recipes that include chocolate that can be worked into a mindful day-to-day diet. Here's a good place to start for tips on choosing the best chocolate while living with diabetes.
Check the label for the percentage of cocoa. Even though the package may say "dark chocolate" or "dark cocoa," the percentage of cocoa may be as low as 30 percent, which is similar to the percentage in milk chocolate. You want to buy chocolate with 70 percent or more cocoa.
All chocolate, including unsweetened chocolate, has carbohydrates. Again, just check the label so you know what you are buying and you can adjust your care plan as needed.
Watch the sugar content in chocolate or cocoa you purchase. Sugar-free cocoa powder is the best option. As with this recipe, you can add an alternative sweetener. There are chocolate options that replace some or all the sugar content with another type of sweetener like malitol or sorbitol. 
---
Sources: 
Flavonoids and Their Anti-Diabetic Effects: Cellular Mechanisms and Effects to Improve Blood Sugar Levels | NCBI 
Effects of Polyphenols on Insulin Resistance | NCBI