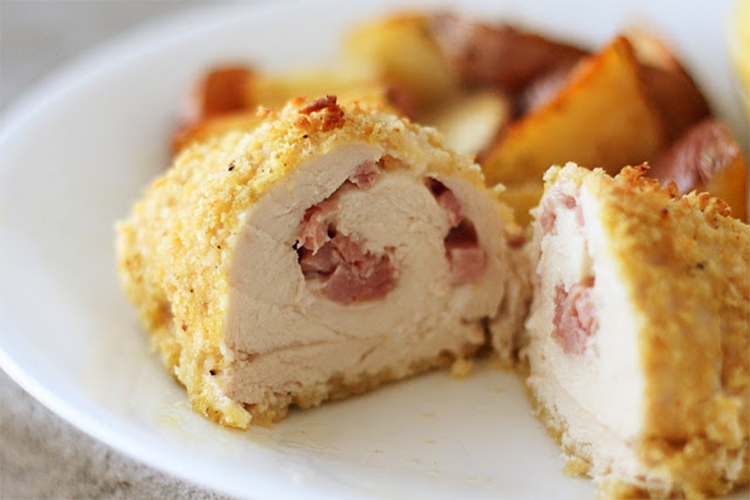 Oh, Chicken Cordon Bleu... Meat stuffed with meat and cheese and rolled in breading, then cooked to golden perfection. Does it get much better than that? Nope, not much. And this one does not disappoint. It's delicious, flavorful and low carb. Perfect!
To make 4 roulades:
Ingredients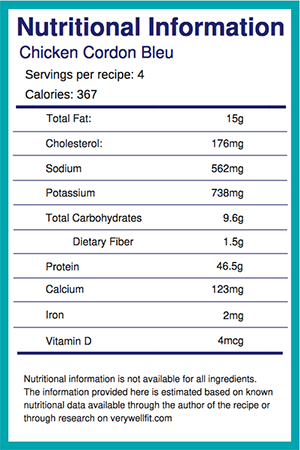 2 large boneless, skinless chicken breasts 
3/4 cup diced ham

(you can use sliced, I just like chunks of ham in mine) 

1 oz. Gruyere cheese, grated 

2 TBSP + 1 TBSP whole grain soy flour 

1 large egg 

1/3 cup panko breadcrumbs (Japanese style) 

1/4 tsp thyme 

1 clove finely minced garlic 

1 TBSP butter, melted 

Kosher salt and fresh ground pepper to taste 

1 TBSP olive oil
Directions
Slice the chicken breasts in half, horizontally so they are more flat and wide (not skinny and fat) so you now have 4 breasts. 

Place them on a cutting board and cover loosely with plastic wrap, wrapping it around the cutting board. Pound with the flat side of a meat mallet until they are 1/4 inch thick.

Sprinkle the ham and cheese evenly over each breast. 

Starting at the bottom of the breasts, roll each of them tightly and set aside.

In one small bowl, mix 2 TBSP soy flour and season with salt and pepper. 

In a second small bowl, beat the egg and season with salt and pepper. 

In a third small bowl, mix the breadcrumbs, 1 TBSP soy flour, thyme, garlic, butter and more salt and pepper. 

Roll a roulade in the soy flour, dip and roll in the egg, and then roll in the bread crumb mixture. Repeat with the remaining ones and then place them in a baking dish that has been coated with the olive oil.

Bake at 350 degrees for 25-30 minutes or until they're cooked all the way through. If you'd like them to be a little browner on top, place them briefly under the broiler.