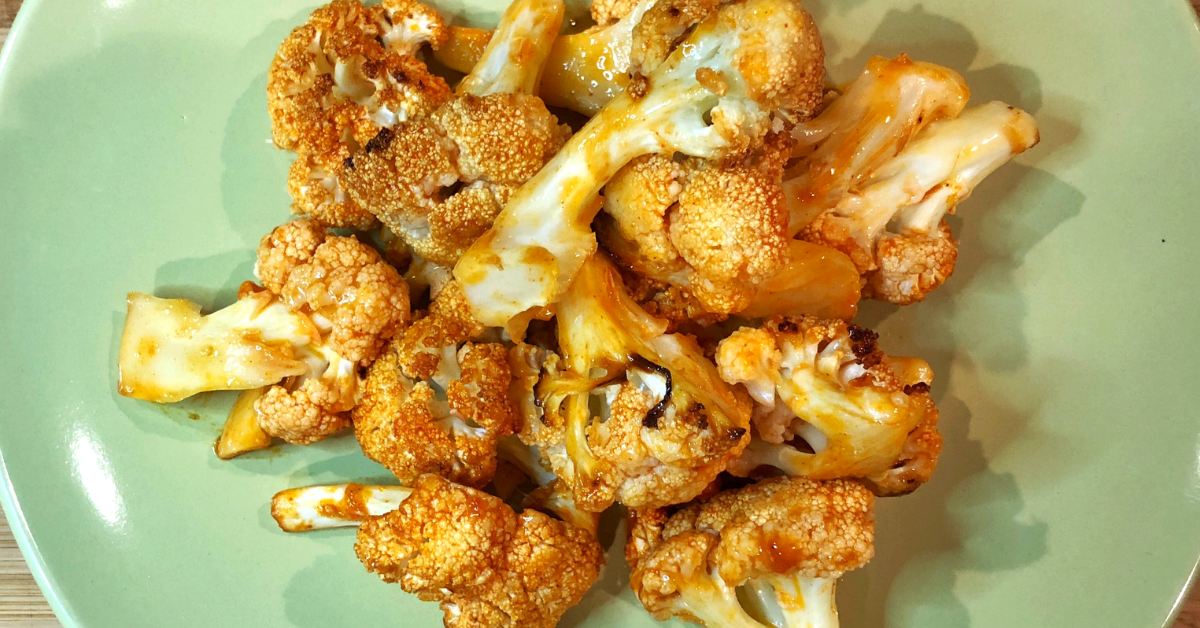 ---
Reduce fried, fatty foods without giving up on the zesty flavor of buffalo wings. Try these two versions of Buffalo Roasted Cauliflower Bites from Charlie Allred! 
---
I love buffalo sauce… I'm just going to say it and usually, it's on fried chicken. I know, not healthy at all! So I had to add buffalo sauce to something healthy… the answer: Buffalo Cauliflower Bites. They are a delicious and healthy roasted cauliflower recipe!
Cauliflower is perfect for those of us with diabetes who are watching our carbs and eating low-carb. The roasted version, without the buffalo sauce, is perfect for the whole family too if you have people who don't enjoy those flavors. My kiddos love the roasted cauliflower without buffalo sauce.
For this recipe, I tried two ways to make the buffalo bites:
I mixed all the ingredients with the cauliflower first, then roasted the cauliflower.
I roasted the cauliflower with only avocado oil and then mixed with the buffalo sauce after roasting.
Hands down, version number 2 was better! The cauliflower was crunchier. The other bonus is you don't have to add all the cauliflower to the buffalo sauce. My kids ate the cauliflower after it was roasted.
So here you go. Buffalo Roasted Cauliflower Bites!
| | |
| --- | --- |
| Prep time | 10 min |
| Cook time | 20 min |
| Servings | 4 |
| Calories | 72 |
| Fat | 2g |
| Carbohydrates | 12g |
|     Dietary fiber | 5.9g |
| Sodium | 111mg |
| Protein | 4.3g |
| Potassium | 681mg |
Ingredients
 1 large head of cauliflower
4 TBSP avocado oil
1/2 cup buffalo sauce
Directions
Preheat your oven to 450°F.
Chop cauliflower into florets.
Add florets and oil to a bowl or zip-top bag to completely coat the cauliflower.
Cover a sheet pan with foil and lay the florets evenly on the foil.
Bake for 20 minutes.
Remove the cooked florets from the oven, place them in a bowl and mix in buffalo sauce until they are completely covered. 
Enjoy!