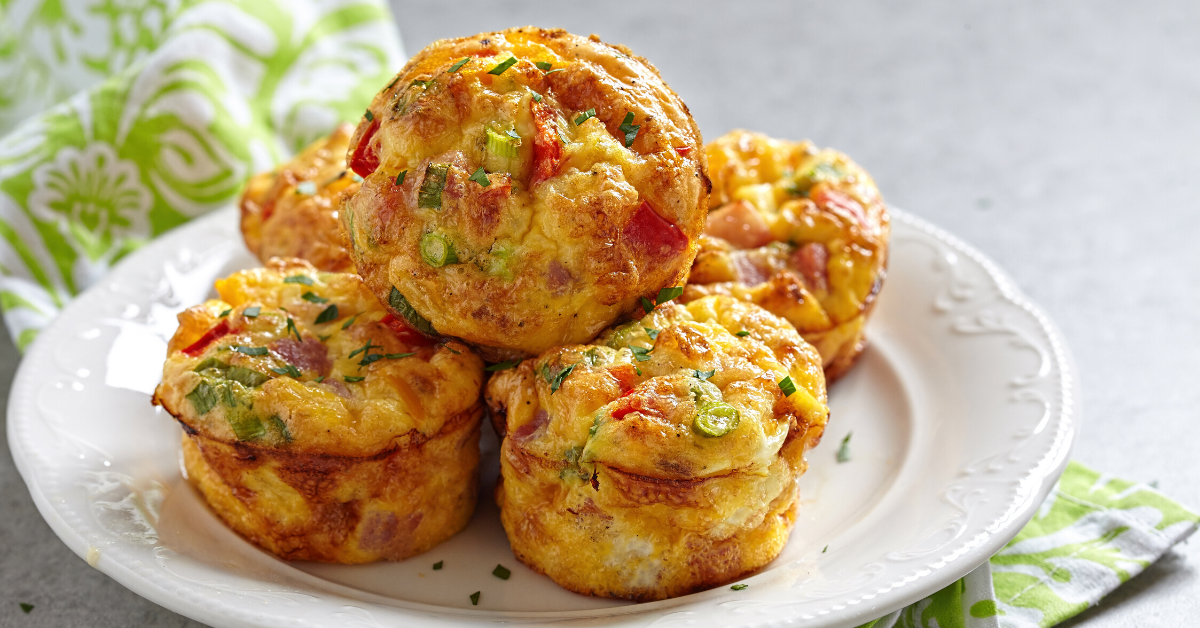 ---
This one is a favorite. Not only is it good and filling, but it is also very low-carb and can be packed with high nutritional value. Try this out! 
---
Egg muffins. They take the form of muffins, but it's basically made of omelet. You can start with a simple base and add what you like to fill it in. Load it up with vegetables to boost the nutritional value and some breakfast meat for savory satisfaction. Try different combinations of ingredients to find your favorite flavor, or keep a variety in each batch so you have options.
One of the greatest things about egg muffins is that a full batch can give you breakfast for days. These egg muffins can be stored, making breakfast simple and ready for up to four days. So make the full batch, and enjoy. 
Ingredients
For the base:
12 large eggs
1/4 tsp garlic powder
Salt and pepper to taste
Soft butter or cooking spray
Add any ingredients you want! Here are some suggestions:
Sweet onion
Bell pepper
Bacon (try turkey bacon if you want to keep fat and sodium lower
Sausage (get a roll of ground sausage to keep things easy) 
Cheese (shredded cheddar or mozzarella)
Spinach
Mushrooms
Tomatoes
Jalapeños
Directions
Start by cooking any meats in a pan on your stovetop. Then, prepare any vegetables by washing and chopping. You can sauté any of them you want to as well. Onions, mushrooms, spinach and bell peppers all take on extra flavor when you cook them.
1. Preheat your oven to 350°F and lightly grease your muffin pan with butter or cooking spray.
2. Whisk all the eggs in a large bowl until mixed well.
3. Pour egg mixture into each muffin cup, about 1/3 cup each. Add prepared ingredients as desired to each cup.
4. Bake for 20-25 minutes. You can insert a knife blade in the center of one to test at 20 minutes. Make sure the blade comes out clean.
When the egg muffins are done, serve immediately. Place leftovers in an air-tight container and store in your refrigerator for up to 4 days. Just reheat when you're ready to eat! 
This recipe also can be made in advance if you are expecting house guests or just want to prepare meals in advance for yourself or family. Make this breakfast food ahead of time and have a delicious, healthy breakfast on hectic mornings or when you have a house full of guests and limited time to make breakfast in the morning!  
Why low carb?
Carbohydrates are important to monitor when you are living with diabetes because your body breaks carbohydrates into sugar (glucose). In fact, glucose is the simplest form of carbohydrate, and reducing carbohydrates can help prevent spikes in blood sugar levels. 
By choosing options that are lower in carbohydrates for your favorite dishes, you can better manage your blood glucose levels while eating the foods you love.
Did you know that eggs are a good choice for people living with diabetes? 
One large egg has just about half a gram of carbohydrates, adding to the "low carb" aspect of this delicious breakfast dish. 
Eggs are also packed with protein, about 7 grams per egg, and are an excellent source of potassium which is important for nerve and muscle health. Protein plays a role in regulating blood sugar and potassium also helps balance sodium levels in your body. 
In addition, one egg only has about 75 calories and 5 grams of total fat (about 1.5 grams of saturated fat). As with all foods, moderation is the key. Eggs have about 200 milligrams of cholesterol per egg and monitoring your cholesterol levels is important because people living with diabetes have a higher risk of cardiovascular disease.
A quick note about cheese... 
It's a good idea to check the salt content of the cheese you purchase. A little salt is fine, but many people over-do their salt consumption. 
The Centers for Disease Control and Prevention recommends 3.4 grams of salt a day, and the American Heart Association recommends about 1.5 grams. When you compare this to the amount of salt most people eat a day (between 6 and 18 grams), you can see where salt can cause problems. 
Although salt doesn't affect blood glucose levels, too much salt can increase blood pressure. People living with diabetes are twice as likely to have high blood pressure. Knowing this, you want to make sure that managing salt intake is part of your diabetes care plan. 
For these delicious breakfast egg muffins, simply check the label for the cheese you are purchasing so you know the salt content before you buy!
With so many options for added ingredients, you can change up this recipe as often as you like!
In fact, you never have to use the same ingredients twice! Sometimes include mushrooms and cheese, sometimes veggies and meat, and sometimes "the works." This dish is so customizable you can have several favorite versions of the same delicious breakfast food. 
Just use your imagination, find what tastes best to you, and go with it!