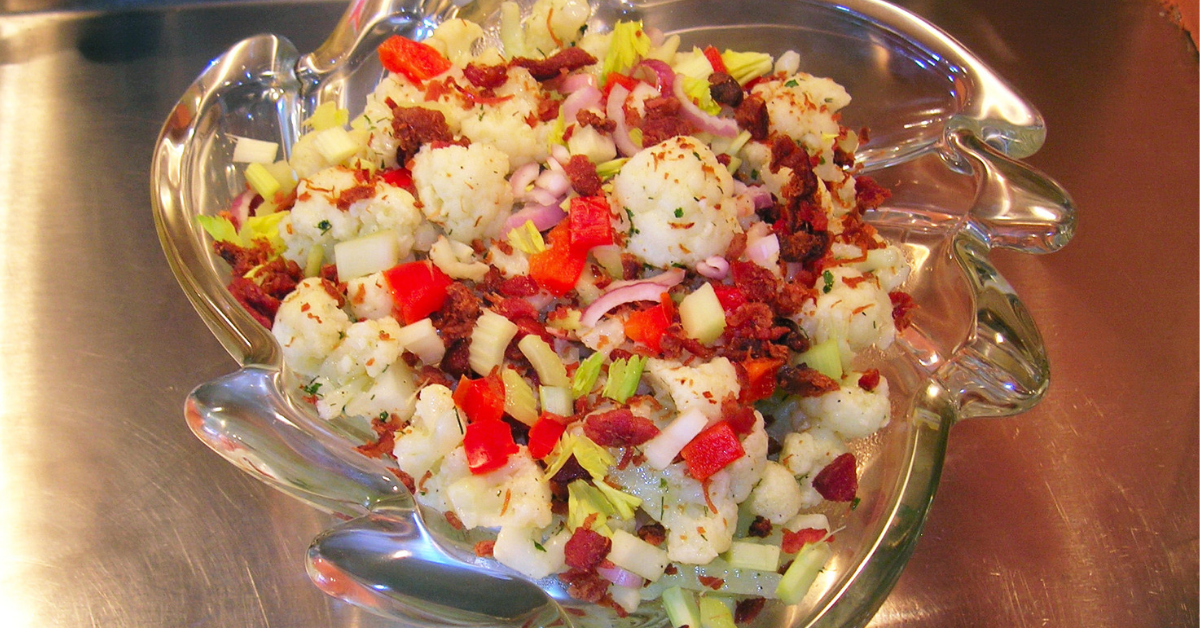 ---
Note from Chef Ward Alper: These recipes only get better the next day. So make a lot, and keep enjoying this nutritious, low-carb salad! 
---
Because no two cauliflowers are the same size, this recipe is in proportions, not exact measurements. A serving size of about 1 cup yields about 10g of net carbohydrates. If you like chopped Egg and Pickles in your salad…add them in. It is your salad to love! Here's how it is made.
Vinegar based sauce (Alsatian Style [German/French])
For each ¼ cup of olive oil:
1 Tsp. Dijon mustard
4 tsp. apple cider vinegar
1-2 stalks of celery, chopped
½ red pepper, chopped
1 Tsp. Fresh dill, chopped (can use ½ tsp. dried)
2 Tsp. Fresh Parsley, chopped
Salt and pepper to taste
1 small shallot thinly sliced OR 2-3 scallions, sliced
¼ cup cooked bacon or pancetta (crumbled)
¼ cup black olives, chopped (optional)
How to prepare:
Bring a pot of salted water to a boil
Mix all of the sauce ingredients together in a bowl
Cut Cauliflower into florets (about a ¾ inch cube)
Boil cauliflower for 2 minutes and drain. Add to sauce. Stir and allow to cool. 
Best served at room temperature or slightly warmed.